Slow worms fail to stop Ceredigion pavement project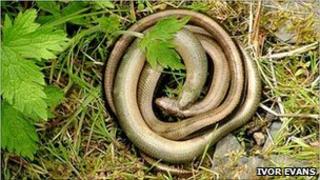 A £51,000 pavement safety project held up because of protected slow worms is to go ahead.
The assembly government money for the work at Aberporth, Ceredigion, was in doubt as it was supposed to be spent within the current financial year.
Once speculation was raised the protected species may have been seen in the area it was thought a survey would delay and then halt the project.
However, it is understood officials have agreed to carry the funds forward.
Aberporth county councillor Gethin James said: "They (slow worms) caused us a delay with spending the money in the time frame.
"But the deputy first minister has agreed the scheme can be done out of the budget post April."
Lizards
Mr James contacted his assembly member Elin Jones to ask if she could raise the issue with the assembly government.
A spokesperson said following a meeting with the deputy first minister and officials, they had agreed funds from the Safer Routes to School initiative could be carried into the next financial year.
The planned £51,232 project includes building a pavement from the centre of the village to the safe route to school footpath near a youth centre.
It would also include building drop kerbs and creating crossing points in the village.
Slow worms are lizards that can often be found in long grass and other damp environments.
They have protected status in the UK and under the Wildlife and Countryside Act 1981 it is illegal to intentionally kill or injure them.
Work on the project was due to start on 14 February and finish by the end of March.
Grant conditions usually require schemes to be completed within the financial year that the relevant award is made.