Aberystwyth students cutbacks sit-in ends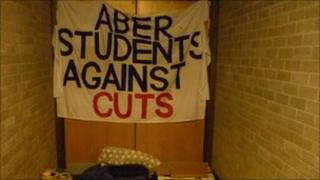 Students have ended a sit-in over proposed cuts at Aberystwyth University after more than a month.
The group occupied two lecture theatres after a demonstration and have remained there for 32 days.
Aber Students Against The Cuts said proposed cuts to societies and student support funding will compromise the quality of teaching and learning.
The university said it has not yet received details of its grant for next year.
David Welles from the student group told BBC Wales: "The level of support has been amazing, particularly from new participants who have been coming along recently."
'Strength of feeling'
The protest followed a "teach-in" last December where students occupied a lecture theatre to campaign against increased tuition fees in England.
Rebecca Davies, Pro Vice-Chancellor for student and staff services, has said the university was "committed to maintaining the excellent student experience at Aberystwyth University".
She added: "We understand the strength of feeling about the changes taking place in higher education at the moment.
"We received a letter from the student guild members of the university's finance and general purposes committee this week and we will be responding fully in due course.
"We will continue to work closely with the student guild, along with our staff and council members, to help shape the future of the university on a sustainable basis."
Aberystwyth Vice-Chancellor Prof Noel Lloyd said on Tuesday that the university had not yet received the details of its grant for the next academic year from the funding council.
The students taking part said the occupation was ended on Friday to they could attend a TUC march in London against public spending cuts.
They said they felt university management had failed to engage with them and they would be looking to "re-emphasize their demands upon their return".