Lampeter victims call for more 'restorative justice'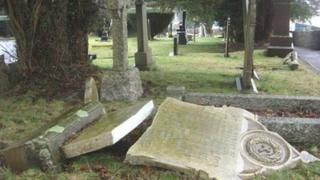 An offender who vandalised grave stones at a Ceredigion church has helped to restore them as a way of saying sorry.
Last June, a group of young people vandalised 40 headstones at St Peter's Churchyard, Lampeter.
And, in a new scheme, some of the culprits met people affected by the vandalism.
Now some of the stones have been repaired by one of the offenders as part of the "restorative justice" programme.
The UK government wants to roll-out a programme where offenders learn about the impact of their actions from their victims.
In Lampeter, two culprits apologised to victims at a restorative justice meeting.
Last week, one youngster worked with police and councillors to set some of the gravestones back into the ground.
UK prisons minister Crispin Blunt said the system "doesn't take punishment out of the equation".
"It just means that the victim is central to the restorative process. Eventually I would like victims to have the right to restorative justice," he said.
A Green Paper, called Breaking the cycle, has been launched with public views being sought as the document looks at "effective punishment, rehabilitation and sentencing of offenders".
Sunday's BBC Radio Wales' programme Eye on Wales asked people in Lampeter what they thought of the idea to widen the use of restorative justice.
"I am a convert - more youth crime should be dealt with in this manner," said Eva Bennett, who attended the initial face-to-face meeting.
She represented the Polish community as many of the people buried at the church had settled in the area after World War II.
'Opportunity'
"It was a senseless thing to do," she said, referring to the vandalism.
"Those people had fought for freedom, it was heartbreaking," she said.
Her husband Dennis said: "I hadn't anticipated I should mellow in any way. I was very much against forgiving these boys because they deserved to be punished.
"It's testament to the process that I changed my views."
The meeting was organised by Trish Knight, from Ceredigion's youth offending service.
She said: "We felt the offenders deserved an opportunity to take part in restorative justice and put right the harm done."
One offender, who wanted to remain anonymous, was initially nervous about the programme.
"I was scared but I knew it had to happen. I wanted to make sure they were OK. I had a lot of regret," he said.
"I wasn't thinking at the time of the crime. When I heard the Bennetts' story it was really hard.
"I had to sit and think about it to understand. I didn't really mean to cause that. We also agreed I will repair the gravestones."
Eye on Wales is broadcast on BBC Radio Wales, Sunday 6 February, at 1200 GMT.