Chris Evans and Hay Festival to inspire child writers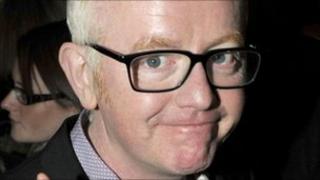 BBC DJ Chris Evans has joined forces with the Hay Festival to inspire children to write stories.
The Radio 2 presenter will chair a panel of five celebrity judges, including comedian David Walliams, who will select five finalists.
The finalists will have their stories read out live on Evans's breakfast show on 3 June, which will be broadcast from the annual literary event in Powys.
Called 500 words, children aged 13 and under can enter on the Radio 2 website.
The competition is being run in association with Hay Fever, the children's section of the festival.
It aims to inspire young people to write a story in 500 words about any fictional topic they choose.
Comedian Walliams, who has published three children's books, and fellow children's authors Anthony Horowitz and Jacqueline Wilson, are among the judges.
The five finalists will be selected from a shortlist of 50, and invited to the Hay Festival on 3 June, from where Evans' breakfast show will be broadcast.
Their stories will be read out by a celebrity, and the winner will be announced at the end of the show.
Evans said: "I can't wait for all this to start. From the first words being dreamt up by our budding scribes, to the five finalists and our star studded panel of glittering talent declaring the winner. It's going to be a blast."
Hay Fever director, Sophie Lording said: "The competition is an exciting extension of what the festival is all about, giving children the confidence to speak for themselves, put pen to paper and tell us their stories.
"We want to do the most we can to encourage the next generation of writers - every novel takes root in the playground."
Teachers from the UK are invited to apply to participate as adjudicators in the preliminary judging round.