Shop Direct closes Newtown call centre, and 163 jobs go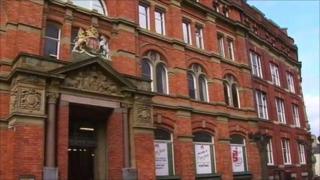 A home shopping firm is closing its call centre in Newtown, Powys, with the loss of 163 jobs, marking the end of an era for mail order in the town.
Shop Direct is shutting its office in a building which once housed the world's first mail order business.
The company was started by Sir Pryce Pryce-Jones in the 19th Century, and his customers included Queen Victoria.
Last year Shop Direct said more people were choosing to shop online rather than place orders over the phone.
The company, and its predecessor Great Universal Stores, has been a major employer in Newtown for more than 35 years, but it is claimed there has been a continuous link with mail order for about 150 years.
Shop Direct's call centre is based at Pryce-Jones' Royal Welsh Warehouse, a tall, listed red brick building built near Newtown railway station in 1879.
Pryce-Jones started his career as a shop assistant, but soon after establishing his business he became a multi-millionaire responsible for 4,000 workers and 250,000 customers, supplying Queen Victoria and other crowned heads of Europe.
Former Newtown mayor and town historian David Pugh said: "I suppose there's a sort of irony to it. When Pryce-Jones started he exploited the new technology of the day, steam trains, which he could not have done without.
"What's finishing this [Shop Direct in Newtown] is new technology because I understand people are shopping online instead of over the phone.
"Pryce-Jones and his mail order business put Newtown on the world map, so it's a sad day."
Shop Direct announced 1,500 job losses in January last year.
A site in Sunderland closed last April with the loss of 900 jobs, and in June, 390 workers were made redundant when a call centre in Burnley shut.
Newtown mayor Joy Jones said the Newtown closure was "very, very sad".
She added: "I am very disappointed. It's one of our major employers in Newtown and it will be a great loss to the area.
"Newtown was the birthplace of the mail order industry and now the modern-day version is moving away, breaking an historic link."
Shop Direct had proposed closing in Newtown last June, but it reconsidered.
About the closure, the company said: "The company has worked extensively with a number of agencies including Careers Wales to ease the process as far as possible and to date nearly 25% of the affected 163 employees have found alternative employment, chosen to return to further education or have opted for retirement."
Shop Direct owns brands including Littlewoods, Additions Direct, Very, Empire Stores and Marshall Ward.
Montgomeryshire MP Glyn Davies said: "It's a huge blow in a relatively rural area and a town of 10,000 people which Newtown is. It's going to have a big economic impact.
"The jobs had flexible hours and were good for mothers to fit in with their parental responsibilities - that was a huge plus, not all businesses can do that.
"My predecessor, the mayor and, indeed, the unions persuaded the company last year to extend the period but the problem is a change in people's shopping habits. People are shopping online."
David Johnson, of the union Usdaw, said it proved "impossible to save the site," but every effort had been made to help members find new jobs and secure the best possible severance terms.