No-pay plan for snow-stranded Ceredigion council staff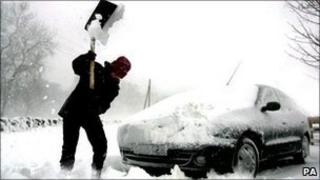 Council staff stranded at home in bad weather might not be paid under plans in Ceredigion.
Ceredigion council may ask workers to make up the lost time or take unpaid leave if there is heavy snow or rain.
The local authority said the policy was under consideration, and unpaid leave was one of the options available.
Plans to save money by cutting a staff fuel allowance in Ceredigion was suspended on Tuesday after a meeting.
As with other councils in Wales, Ceredigion is making savings, and is looking at staff costs which account for 60% of the authority's spending.
It has drawn up three options for staff when bad weather strikes.
The first could see workers taking annual leave, working flexi-time or taking time in lieu.
The second option could see staff arrange to take time in lieu and make up the time owed to the council.
The final option is to take leave without pay.
A council spokeswoman said: "Recognised trade unions have been consulted on the proposed policy prior to being considered by Ceredigion County Council's cabinet [last Tuesday].
"In addition, staff have been requested to provide their comments on the changes. It should be noted that unpaid leave is only one option available to members of staff."
Public sector union Unison said the plans were out to consultation.
Ceredigion branch secretary Cathy Graham said: "The policy at the moment means that staff are paid if they're not at work.
"The new draft policy is tougher, and the best achievable in the current climate.
"We have made improvements to the draft. Initially, the council wanted people who called in sick in bad weather to get a sick note from their GP.
"We thought this showed a huge lack of trust in the workforce. We argued that it could also affect people's health and safety if they were expected to go out in bad weather for a sick note."
After details emerged about a plan to cut a fuel allowance scheme last week, the authority said it had to reduce costs because of budget cuts, but jobs could be saved.