Aberystwyth youth football event switches to Cardiff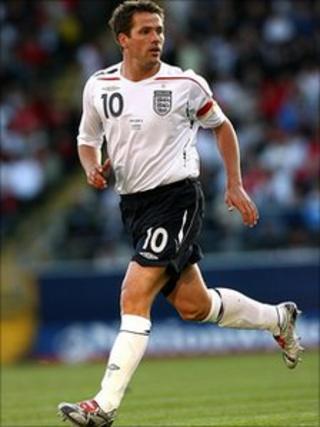 A youth football tournament where Manchester United star Michael Owen honed his skills is switching from Aberystwyth to Cardiff.
Organisers of the Welsh International Super Cup said it was hard to attract sponsors and the event was not viable in the Ceredigion town.
Aberystwyth Chamber of Commerce is holding an emergency meeting to discuss what it described as a "big blow".
This year's event will be held at Cardiff University from 25 to 29 July.
Owen - the England international who was also on the books of Liverpool, Real Madrid and Newcastle - former Chelsea star Andriy Shevchenko and former Liverpool legend Robbie Fowler are some of the young players who turned out in the tournament in Aberystwyth over 26 years.
It was seen as an important money-spinner for the town, and last year attracted players from 17 countries, as well as thousands of spectators.
The young players stayed in university halls of residence for a week and brought a rush of business for local traders.
But Team Tours Direct, which organises the tournament, said it was finding it difficult to fund the event in Aberystwyth and it was far more attractive to sponsors to stage it in Cardiff.
Company managing director Terry O'Neill said: "We are going to move from Aberystwyth to Cardiff.
"Aberystwyth is a really wonderful place, but it's hard to attract major sponsors because of the capacity of the area - it doesn't have the population.
"Cardiff is far more attractive area for sponsors and we've already had interest from a major drinks sponsor."
The event started in Aberystwyth 26 years ago as the Ian Rush Tournament, named after the former Liverpool and Wales striker.
'Sad news'
Team Tours Direct took over the event a few years ago.
Mr O'Neill added: "It's just not economically viable to stay in Aberystwyth in the current economic climate.
"I'm sure we will come back to Aberystwyth to run something because the support we've received has been amazing, and the people have been very supportive."
Alun Davies, vice-chairman of Aberystwyth Chamber of Commerce, said it was "sad news".
He added: "The week-long event brings in a lot of money to Aberystwyth and to its hotels, restaurants and tourist attractions. This is a big blow.
"The young players were housed in university halls, so the university is losing out too."