Brynllywarch Hall School loses residential status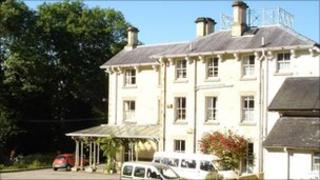 A special school for children with learning difficulties has lost its residential status after a fall in demand for bedrooms.
The plans for Brynllywarch Hall School, near Newtown, which had been recommended for approval, will save Powys council £125,000 a year.
The school once had 40 residents, but now there are only two and rooms are set to close in September.
Acting head teacher Rob Davis said it was a sad day for the school.
Mr Davis said 20 years ago Brynllywarch Hall catered for child residents from across mid and south west Wales, and parts of Shropshire.
But he said the catchment area had changed and about 60% of his referrals were now from Newtown or Welshpool.
"It's a sad day for the school because the children learned a lot of what we call independent living skills as residents - looking after themselves, cooking, laying tables and making beds," Mr Davis said, whose school is in the village of Kerry.
"The geographical nature of where people come from has changed. Twenty years ago we had children here from areas like Ystradgynlais, Pembroke Dock and parts of Shropshire.
"About 60% of our referrals come from the Newtown and Welshpool areas.
"A lot of work needs doing to our residential areas and in the current economic climate, and with budgetary constraints, there just isn't the money to spend on this sort of thing."
Mr Davis said the school catered for 70 pupils, but only two were residents in houses on the school site.
Powys council said: "In 2009, following a critical fire officer inspection report, it was necessary to close the residential floor in the main house and, therefore, the residency was reduced to the two houses, a total of eight pupil bed spaces.
"At the end of the summer term 2010, there were only two full-time (Monday-Friday boarding) residents at the school. One of these pupils left the school at the end of the term and the second pupil had expressed a desire to attend the school on a day-basis rather than continue as a residential pupil."
The budget for the school's residential area had been put at £125,000 for 2010-11.