Severn Trent's Lake Vyrnwy decision expected next month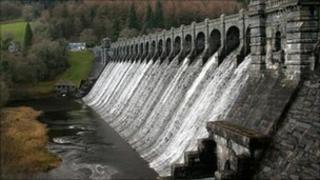 The company behind a deal to sell a 23,000-acre (93 sq km) estate in Powys is expected to make a decision about its future next month.
Utilities firm Severn Trent will vote on its favoured bid for Lake Vyrnwy at a board meeting in early February.
The only known bidders for the popular beauty spot are businessman Rhys Jones, and the RSPB and Mid Wales Housing.
The Countryside Council for Wales will consult Powys council, Welsh heritage body Cadw and the Environment Agency.
The estate is for sale on a 125-year lease and it is being sold in four lots. Several meeting have been held with its tenants and other residents since news broke of its sale last July.
Last November, a survey of residents placed the creation of local jobs as the top priority for a new owner.
The estate, valued at £11m has a conservation area, nature reserve, sites of special scientific interest and several farms.
Bidder Mr Jones, 41, who lives in Norway and Poland, but is from near Bala in Gwynedd, is chief executive of Celtic Property Development.
RSPB Cymru and Mid Wales Housing Association have submitted a joint bid for the estate. The bird charity already manages part of the estate.