Ceredigion council plans staff fuel allowance cuts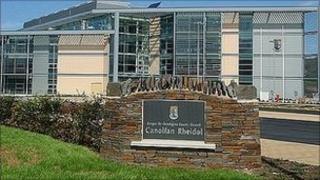 Hundreds of council workers are facing cuts of up to £2,000 to their fuel allowance under plans to reduce costs.
The cutback could save Ceredigion council £650,000 as it looks to make a total of £2.3m cuts over the next financial year.
It is thought that hundreds of staff, who use their own vehicles for work, could be affected.
The council said it had to reduce costs because of budget cuts, but jobs could be saved.
The local authority plans to scrap an essential and casual car user scheme and place staff on 40p per mile for the first 10,000 miles, in line with HM Revenue and Customs approved rates.
It is thought that about 200 council workers stand to lose £2,000 a year under the proposals, while others face cuts of a few hundred pounds.
The public sector union, Unison, is balloting its 1,400 members in Ceredigion over whether to accept the plan.
Branch secretary Cathy Graham said many people stood to lose a lot of money.
She said: "It's a difficult financial climate and places like Neath Port Talbot and Rhondda Cynon Taf face much more severe cuts.
"Neath Port Talbot members have accepted a pay cut across the board in a trade-off over job cuts. Our members (in Ceredigion) might agree to back the scheme if jobs were being saved in Ceredigion, but the county council has not made this absolutely clear.
"That's why were holding a ballot over whether or not to accept the proposal, and it closes tomorrow."
Essential car users such as planning officers or architects, who use their own vehicles for work, are paid an annual allowance of between £795 and £1,170, depending on the size of their car's engine.
In addition, they are paid between 33.6p and 46.4p per mile for the first 8,500 miles.
Casual car users, such as home carers, are not paid an annual allowance, but receive between 42.9p and 60.1p, depending on engine size, for the first 8,500 miles.
But Ms Graham said the council planned to scrap the schemes and introduce a 40p per mile rate for all staff.
She added: "The 40p per mile rate has not been reviewed since 2002. Since then fuel has risen dramatically and inflation is on the rise.
'Safeguard'
"Our members had a pay freeze last year and this could be the case for the foreseeable future."
Ceredigion council, which is expected to discuss the proposal next week, said it was looking at ways of reducing costs following cuts to its budget.
In a statement, the council said: "One such option was to reduce the travel and subsistence costs throughout the authority.
"The intention being that any savings that could be achieved via such a reduction would reduce the overall budget deficit, and consequently would help to safeguard some jobs that may otherwise be under threat.
"The proposal is to remove the essential and casual car user designations and replace with a standard travel allowance for all council employees in line with the Her Majesty's Revenue and Customs approved mileage rates."