Welshpool car parts firm lays off temporary workers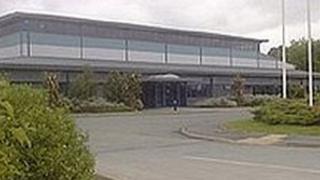 A Powys car parts firm has laid off all its temporary staff and plans to make up to 30 full-time workers redundant.
Shimizu Industry UK (SI-UK) in Welshpool has blamed the "continuing difficult trading situation".
The company, which makes parts for Honda, Toyota, Land Rover and Jaguar, has not revealed how many temporary jobs will be lost.
The firm has been based in Welshpool since 1996.
The news comes as figures show that unemployment in Wales rose by 4,000 to 123,000 in the three months to November.
In a joint statement, Shimizu's managing director Kenji Sakamaka and executive director Trevor Gaughan said: "Due to the continuing difficult trading situation, SI-UK needs to re-organise its company structure.
Sister plant
"This will involve the laying off of all temporary staff and the possibility of up to 30 permanent staff being made redundant."
Montgomeryshire MP Glyn Davies said he hoped Shimizu would recover from its setback.
"I am particularly disappointed because Shimizu has been a very successful company. I hope the action it has taken will secure its future and enable it to grow when the market recovers," he said.
A subsidiary of Shimizu, called Traltec, opened a factory in Welshpool in 1996.
In 2006, Traltec merged with TP Moulding Ltd of Telford, Shropshire, under the name of Shimizu Industry UK.
In 2009, some jobs switched from the sister plant in Telford to Welshpool.