Aberystwyth building firm fined £10k over safety breach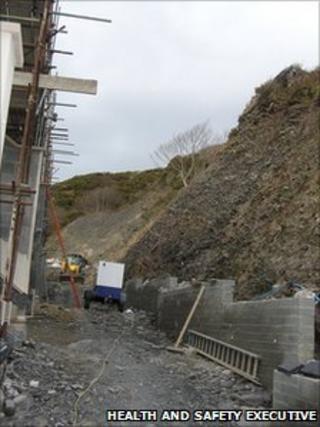 Companies have been warned about putting their workers at risk and ignoring orders to improve safety after a building firm was fined £10,000.
The Health and Safety Executive (HSE) said Merlin Homes, of Aberystwyth, continued work on a development despite a prohibition notice last February.
It admitted breaching the notice, said the HSE, and was told to pay £7,700 costs. It has been asked to comment.
It was feared that a bank behind some homes could have collapsed.
The HSE said Merlin Homes had failed to take steps to prevent materials falling down the bank off North Road, which had endangered employees working below it.
It said the company continued to work on the building site despite being issued with a prohibition notice issued at Aberystwyth Magistrates' Court last February.
Merlin Homes admitted breaching the Health and Safety at Work Act 1974 at Aberystwyth Magistrates' Court, by contravening the prohibition notice and allowing people to work in a prohibited area.
After the court hearing, HSE inspector Philip Nicolle said: "Merlin Homes (Wales) Ltd failed to take the appropriate health and safety measures to ensure that all employees on site were working in a safe environment.
"Having received a prohibition notice the company should have followed procedures and put correct working practices in place.
"But they ignored this binding legal order and continued putting contractors at risk from falling or dislodged materials in full knowledge of the potential dangers.
"This is clearly unacceptable and companies should be aware that ignoring enforcement notices and putting workers at serious risk will see them in court."