Councillors discuss closing small schools in Powys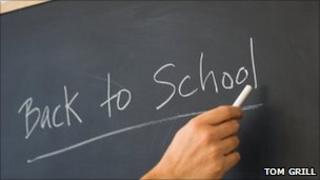 Councillors in Powys have discussed closing primary schools with fewer than 30 pupils at a meeting.
It is unclear how many of the county's 101 primaries will be affected.
Montgomeryshire MP Glyn Davies said it was a "black day" and warned it could lead to "wholesale destruction" of primary education in the county.
The review has been brought forward from next year because the council said the small rural schools were no longer viable.
It is part of a wider shake-up of primary and secondary education in Powys.
The council has already started its modernisation process in Ystradgynlais where it will replace 10 primary schools with four modern facilities, and it said it was "committed to continuing that process across the county".
But the decision to target schools with under 30 pupils has been criticised by Mr Davies, Conservative MP for Montgomeryshire.
"I understand that Powys county council is facing very difficult spending decisions, but I cannot support such wholesale destruction of our network of primary schools," he said.
"I have already spoken with the education portfolio holder, and shared my concerns with him.
"We must ensure that detailed consideration is made of the position of every individual school. This is just about the blackest day for education in Montgomeryshire that I ever remember."
Councillor David Jones, who is responsible for education in Powys, said: "The council is committed to providing the best possible education facilities for our young learners through the schools modernisation initiative.
"We have started the modernisation process in Ystradgynlais where we will replace 10 ageing schools with four modern facilities and are committed to continuing that process across the county.
"When we approved the review timetable in July 2008 we also agreed that we would review individual small schools where pupil numbers are below or projected to fall below 30.
"It is inevitable that school numbers will reduce, we have falling school rolls and need to develop an infrastructure that meets the needs of the next generation not the last."
Since 2008, the council has closed five small rural primary schools and built three new ones, while changes in the Ystradgynlais area are expected to be completed by September 2012.
In December, councillors voted to make a £220m bid for Welsh Assembly Government cash to help fund a 15-year plan for primary and secondary education.
As part of a £314m investment programme, the authority will have to find £94m of the total investment.