Ogwen Mountain Rescue criticise 'thoughtless' climbers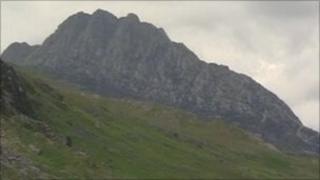 Mountain rescue workers have criticised three climbers who had to be led to safety from Snowdonia's Tryfan.
Ogwen Mountain Rescue described the men as "rather thoughtless" for going out in "atrocious" conditions.
The group were attempting to climb the 3,010ft (917m) peak despite forecasts of 60mph (96km) gusts.
Trapped, they made a mobile phone call for help on Saturday afternoon, but it was midnight before they were taken off the mountain.
A spokesman for Ogwen Mountain Rescue said crews had led a rescue at the same spot a week earlier and knew to reach the men, aged in their 40s, from above.
A rescue member roped down 200ft (60m) to reach them before they were taken another 200ft down to the cliff base with ropes.
The team spokesman said it was understood the three men from the Home Counties meet at the same time every year, climbing Tryfan on Saturday and Snowdon on Sunday.
The weather was too bad for them to reach the summit so they backtracked and decided to descend down the north gully where, on the main rock face, they called for assistance.
In all, 20 rescue members were involved in the rescue, 15 on the mountain.
The spokesman said one member had battled from his home in the Conwy Valley through floods and a road blocked by a tree to help in the rescue.
He said whilst the three men were well equipped they were "thoughtless" to make their climb when the weather forecast had been so clear about the poor conditions