Tax rise 'support' for Dyfed-Powys Police, survey finds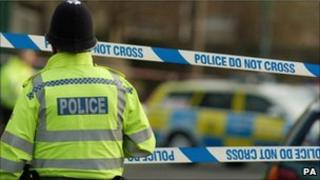 People in mid and south west Wales are willing to pay more council tax to keep police officers on the beat, a survey has found.
The research was commissioned by Dyfed-Powys Police to find out what people thought about the spending cuts faced by the service.
Results show that 84% of people are willing to pay an extra 15p a week.
Charity Victim Support said it was vital cuts did not affect front line policing.
The Dyfed-Powys force has warned it could cut up to 350 jobs after it was given details of savings it needed to make.
Welsh Office Minister David Jones has said that cuts of 5.1% in 2011/12 and 6.7% in 2012/13 were "challenging", but he said he believed that front line policing could be protected.
The survey was carried out last November by IPSOS Mori.
Three hundred and fifty five residents were asked what areas they thought should be protected from cuts, what areas should be cut and how willing they would be to pay more council tax to protect front line policing.
Of those questioned, 75% were "strong-minded" about maintaining the number of local police officers and protecting them from cuts, with 84% saying they would pay an extra 15p a week in council tax to ensure this.
Residents prioritised support staff and senior officers as areas for cuts.
"We wanted to ask the public where they thought the cuts should be made," said Deputy Chief Constable Jackie Roberts, who is leading the force change programme.
"The budget set for the force and the changes in the allocations of grants from government means we have to make significant savings.
"We need to change the way that we work, and review the services we provide whilst maintaining our strong record on low crime and high detections."
She added: "The results show that front line policing is so important that people living in Dyfed Powys force area are willing to pay that little extra in their council tax.
"They also show that our work to streamline back office processes is in line with where residents think we need to focus the cuts to our spending."
Victim Support's regional manager for Wales, Gaynor McKeown, said people were reassured by police on the beat.
She said: "The response to this survey shows the extent to which the public and people affected by crime feel reassured by police presence on the streets and in their communities.
"It's vitally important that cuts do not affect front line policing and the ability to tackle crime."
The 15p council tax rise per week is based on a typical band D property.