Cardigan town project's 500 investors visit site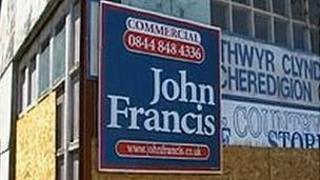 Shareholders who raised more than £200,000 to help rejuvenate part of a town centre are viewing their new investment for the first time.
The 500 investors who bought the Pwllhai site in Cardigan, Ceredigion, are gathering there to officially launch the project.
The Society to Sustain and Support the Rural Countryside intends to develop a community shop to promote local goods.
It received the keys on Wednesday after exchanging contracts last month.
Society to Sustain and Support the Rural Countryside chair Shan Williams said the shareholders might start clearing the derelict site, where rubbish has been dumped in recent years.
A campaign was launched in June last year to buy the old farmers' co-op and surrounding buildings in Cardigan.
The society, a not-for-profit consortium, had the backing of the town's chamber of commerce and Ceredigion AM Elin Jones.
Regeneration
Other backers said the project would breathe new life into the town centre.
Ms Williams said: "We exchanged contracts on 23 December and received the keys on Wednesday.
"Most of the shareholders have not seen inside the buildings on site, so it'll be a chance for them to see what they've bought.
"We have one shareholder who makes home brew, so he said he'd bring some bottles of wine to mark the event.
"We'll probably start work cleaning the site as well because it's a serious eyesore. Things have been dumped there and it needs cleaning."
Ms Williams said once the area had been cleared some old storage sheds could be demolished, which Ceredigion council had agreed to in principle. A bat survey also has to be carried out in April.
More than 1,000 shares, costing £200 each, have been sold so far and they those left will be available until 1 March, she added.