Health centre replaces Builth Wells community hospital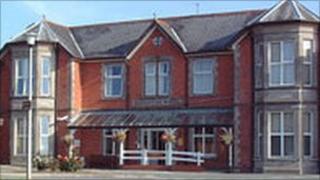 A small community hospital in Powys which was facing cuts is to be replaced by a £4.9m health centre, it has been announced.
The centre in Builth Wells is designed to provide more services closer to people's homes and is expected to be completed in December 2012.
The project will bring together services provided by Powys Local Health Board (LHB) and Powys council.
The LHB said it marked a "significant advance" in closer working.
Local AM Kirsty Williams said it would make a "massive difference" to people.
Approving the plans, Health Minister Edwina Hart said it would be a "vast improvement on the current old facilities".
The "new integrated health and social care centre" is designed to replace Builth Wells Community Hospital, which has faced cuts in recent years, and a campaign was fought to save it.
The purpose-built development is earmarked for the site of a care home.
Mrs Hart said: "This new integrated health and social care centre, once completed, will be a vast improvement on the current old facilities.
"Our aim is to provide more services closer to people's homes, reducing the need for people to travel to major hospitals. This development brings together a range of services under one roof, fostering a closer working relationship between services, which simplifies and speeds up access to services for patients."
Mrs Hart added the development would "greatly improve the environment for patients and staff, providing opportunities for further expansion in the future".
The health centre is planned to include 12 en-suite rooms for health and social care, and extend community nursing hours into the evening to enable more support in people's homes.
A service providing physiotherapy and occupational therapy will also be available and this will help people to remain at home after illness.
The assembly government claims there will also be faster access to social care services for people in urgent need at home, and the centre will work with other sectors to provide "hospice at home" services.
Brecon and Radnorshire AM Kirsty Williams said: "We have been fighting to keep good quality local health and social care services in Builth Wells for years now, and this is a really positive step towards achieving our goal.
"The plans look fantastic and the services that are planned for the new project will make a massive difference to local people. It will mean that treatment can be delivered closer to home and patients can stay closer to home, friends and family."
The chairman of Powys LHB Chris Mann said the decision "marked a significant advance in our approach to joint working across the public sector".
He added: "The new facility will enable us to bring together services provided by Powys County Council, the health board and the third sector."
Powys LHB announced in 2006 that it intended to cut services.
Action groups were formed to fight the cuts at Llanidloes, Knighton, Bronllys and Builth Wells hospitals.
The LHB was facing a £3.5m deficit, and said that its buildings were outdated and patients deserved better.