Bins tackle smoking litter rise in Newtown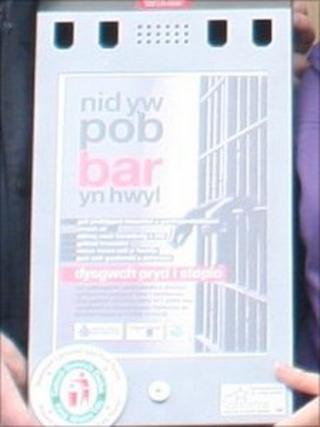 More than 130 cigarette bins have been bought following claims of a "dramatic" rise in smoking-related litter.
The bins will be placed outside pubs, restaurants, clubs, office buildings, bookmakers and shopping centres throughout Powys.
Powys Community Safety Partnership said there had been a "dramatic increase" in cigarette-related litter since the smoking ban in 2007.
Newtown is the first town to benefit from the new bins.
A Welsh Assembly Government grant helped pay for the scheme, and the bins will be distributed to businesses in Newtown town centre.
Safety partnership chairman Councillor Graham Brown said: "There has been a dramatic increase in the amount of cigarette-related litter outside many premises since the introduction of the smoking ban in 2007.
"Litter is one of the most common forms of 'envirocrime' and also has significant negative implications for our economy through tourism and inwards investment.
"This initiative will undoubtedly produce yet more success in tacking an issue which, if not dealt with appropriately, can provoke annoyance in the communities, effecting their pride and enjoyment in the local environment. It will also provide a resource for local businesses to support them in meeting their local responsibilities."
Newtown mayor Joy Jones welcomed the initiative, although she said some publicans in the town already had bins and cleaned up after smokers.
The scheme, costing £4,750, has been funded through the assembly government's Tidy Towns initiative.