Powys teachers' jobs warning over school merger plan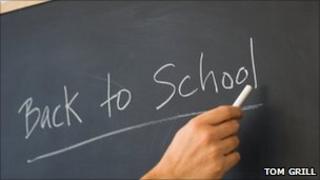 Union leaders claim there will be "wholesale dismissal of teachers and support staff" if planned changes to secondary education go ahead in Powys.
All 13 county high school sites are now expected to stay open in the major shake-up.
Powys council said some posts could go under merger plans affecting seven schools, but it aimed to ensure "the least possible disruption to jobs".
Teachers' union NASUWT said it would not accept compulsory redundancies.
The council has unveiled its preferred options for pre-16 and sixth form education after a threat to schools was revealed in a leaked report in January.
Under the plans, schools could merge and management structures streamlined, leading to one head teacher for three schools.
Teaching posts could also be lost through retirement or voluntary redundancies, the council said.
The proposals for post-16 education include stripping schools of their sixth forms and opening sixth form centres in partnership with the county's further education college, Coleg Powys.
This plan will go before the council's ruling board next Tuesday, but the NASUWT is warning of major job losses if they are backed.
Neil Butler, who represents the union in Powys, said the amalgamation of schools would lead to "school closures and wholesale dismissal of teachers and support staff, and there was "no guarantee of ring fencing jobs so those staff will have to fight for their own jobs back".
He added: "This is a disgraceful way to treat teachers who, by the document's own admission, produce some of the best standards of education in Wales.
"It is also particularly galling in that schools have already been working towards consortia in order to deliver the Welsh Assembly Government's ambitious curricula requirements. This was delivering the required change without the destructive process of job losses and industrial unrest that these proposals will inevitably start.
"The NASUWT will not accept the compulsory redundancies that are created as a consequence of these forced amalgamations and we will respond accordingly."
'Economic challenges'
He said plans to "destroy" sixth forms "for the sake of shiny new buildings down the spine of Powys" entirely misunderstood what quality education required - "good and experienced teachers".
Powys council said its aim was to "ensure that learners have access to high-quality education in their communities".
It said schools were facing "very difficult economic challenges and falling pupil numbers".
A spokesman added: "The authority is recommending that, in order to protect education in each community, a reorganised management structure is put in place.
"The alternative would be closure of schools. We are also recommending that post-16 education is delivered in a new innovative partnership agreement with Coleg Powys which will widen choice for young people, and we are reviewing how and where post-16 education is delivered in future.
"The council will be working with the unions and schools to ensure the least possible disruption to jobs and the proposed options will be the subject of full consultation with wide-ranging audiences next year."