Schoolboy, 13, died on River Usk canoeing trip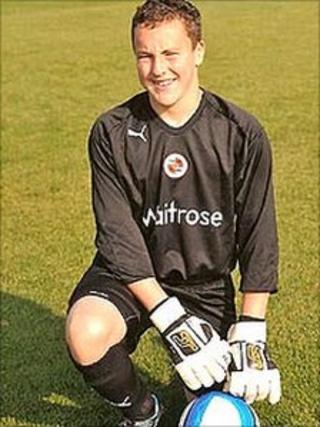 A young football player who died while on a canoeing trip in mid Wales suffered from a rare and undiagnosed heart condition, an inquest has heard.
Stewart McEwan, 13, from Earley in Reading, Berkshire, died during an exercise on the River Usk in November 2008.
Stewart had signed for Reading as a goalkeeper a few weeks before.
Powys coroner Peter Maddox recorded a narrative verdict.
His mother told the inquest in Brecon how Stewart played sport seven days a week, and hoped to play for a Premiership football club.
But she told how he had been to hospital three times after blacking out during sporting activities.
Janet McEwan said: "Stewart was such a fit and healthy young boy. He was only 13, 5ft 11ins with size 11 feet and huge hands.
"He was very energetic, very fit and active. He was the picture of health."
The inquest heard he was once resuscitated in a swimming pool by teachers.
He was taken to hospital for tests but doctors failed to find anything wrong.
Mrs McEwan said he had gone on the trip with his school rugby team.
She told the inquest: "He was a great sportsman with great opportunities. He was on a path to a professional football career.
"I left him at the school gates to go on a trip, and he never came back."
Teacher Adam Moore said Stewart was in a group of 11 pupils from Maiden Erlegh school in Earley.
He said: "Stewart was the last to go through the final set of rapids. He was paddling a Canadian canoe with a girl classmate.
"They tipped into the water to the right towards me and the instant reaction was shock and cold.
"The instructor was there and he went to the girl. Stewart followed the instructions and went to the back of the canoe to hold onto it.
"I heard someone suggest that Stewart was fitting. His head had fallen backwards and it seemed he was having a fit."
Mr Moore and the instructor pulled Stewart onto the bank to perform mouth-to-mouth resuscitation.
The inquest heard that a medical consent form for the trip was signed by Stewart's mother who wrote he needed to be "observed at all times" when swimming because he had fainted previously.
Recording his verdict, the coroner said Stewart appeared to fit in the water and attempts to resuscitate him were unsuccessful.
After the evidence was heard, Stewart's father Ian told the court he felt "frustration more than anger that multiple, different organisations touched this medical consent form and not one of them were able to challenge the family about what that meant".
The court heard the school's procedures for risk assessments when taking pupils on trips have now been strengthened.
In a statement read outside court, the family said: "Today has been a hard day for us all, as indeed every day has been since we lost Stewart.
"We are so grateful to our family, friends and colleagues who have helped us to stay strong.
"Our love for Stewart and all our special moments and memories together keep us going when it gets tough.
"Our star still shines forever in our hearts."