Merger plans to save under-threat Powys high schools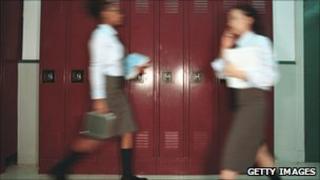 All 13 high school sites in Powys are now expected to stay open in a major shake-up of secondary education after fears that up to six could close.
But teaching posts could go under merger plans affecting seven schools.
Powys council also proposes to make a £220m bid for assembly government cash to help fund a 15-year plan for primary and secondary education.
Meanwhile, parents from Ceredigion are in Cardiff opposing a project for a "super school" in Llandysul.
Ceredigion council's cabinet backed a proposal in June to close Ysgol Dyffryn Teifi secondary school in the town, its primary school and four other schools.
But parents opposed to the move are presenting a report to education officials at the Senedd on Wednesday.
In Powys, the council has unveiled its preferred options for pre-16 and sixth form education after a threat to schools was revealed in a leaked report in January.
It was feared that up to six schools could close. Officials said falling pupil numbers and the conditions of buildings were posing serious challenges.
However, after widespread opposition councillors are now recommending that seven or eight schools will operate across 13 sites.
This proposal is to go before the council's ruling board next Tuesday.
It could mean schools merging and the streamlining of management structures, leading to one head teacher for three schools.
Teaching posts could also be lost through retirement or voluntary redundancies, the council said.
The proposals for post-16 education include stripping schools of their sixth forms and opening sixth form centres in partnership with the county's further education college, Coleg Powys.
There are also plans to reorganise pre-16 Welsh-medium education across three sites.
'Make up our mind'
Board member for schools, Coun David Jones said: "We have spent a long time looking at the challenges facing both the schools and Coleg Powys now and into the future."
He said they had listened to comments received after their consultation document was published and now believed the "best way forward for our learners and their communities is to make sure that education is at the heart of those communities".
They have identified proposals which "could form the basis of a thriving education and training sector in Powys", Mr Jones said.
"But, that does not mean we have made up our mind, we will be taking the recommendations to every secondary school in the county and seeking the views of all interested parties."
If the recommendations are approved next Tuesday, a four-month consultation process will start in January.
Powys council has also unveiled plans to invest £314m in its primary and high schools which are expected to be submitted to the assembly government.
The authority could have to find £94m of the total investment.