Endangered crayfish given early release back to wild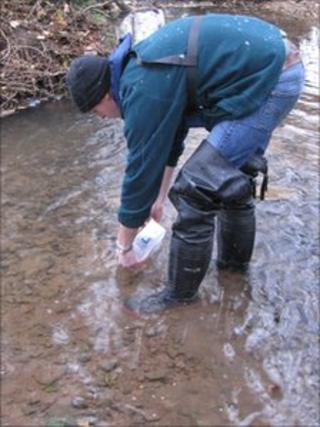 Fifty endangered white-clawed crayfish bred in a hatchery in Powys are being released early because room has run out in a breeding tank.
Environment Agency Wales has around 200 of the UK's only native crayfish at a centre near Brecon.
They were due for release in the spring, but a breeding programme has proved so successful that they are being returned to the wild now.
There is a danger they could start fighting or even eating one another.
They are being released at a secret location in the Rhymney Valley.
The Environment Agency said the white-clawed crayfish was under threat from the American signal crayfish.
The American import was introduced for food in the late 1970s and 1980s, and carries a plague which affects only the white-clawed species.
In an attempt to save it, Environment Agency Wales has been breeding the crayfish at its Cynrig Hatchery, near Brecon, and it has been so successful that room has run out in the breeding tank.
In a bid to ease the overcrowding, the agency is releasing 50 into a tributary of the River Rhymney.
Agency officer Oliver Brown said: "The juvenile crayfish have thrived beyond all expectations to the point that we're running out of room for them in our breeding unit.
"With a 70% survival rate from our trial programme we now need to find suitable sites to re-home them.
"In the meantime we're releasing 50 of the new population earlier than planned so the remaining crayfish have a bit more space to continue to grow. We will look to release these remaining crayfish next spring."
Breeding programme
The 200 crayfish originate from six egg laden females taken from the river.
The agency has been using a experimental technique of re-circulating water, to ensure the young crayfish develop and thrive.
It is confident the 50 juveniles have developed enough to survive in the wild and will be monitoring how they fare.
Mr Brown added: "We hope to take the project further next year to include more females with eggs, so ultimately we can release more of this threatened species back into the wild and help ensure its survival."