Lake Vyrnwy bidders to meet villagers in Llanwddyn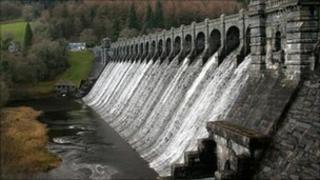 The bidders for a north Powys beauty spot are to meet the residents of a village affected by the sale.
The 23,000 acre (93 sq km) Lake Vyrnwy estate is for sale on a 125-year lease.
The meeting comes in the wake of a local survey which placed the creation of local jobs as the top priority for a new owner.
The only known bidders, businessman Rhys Jones, and RSPB and Mid Wales Housing, will meet villagers at Llanwddyn Community Centre at 1945 GMT.
The estate, valued at £11m has a conservation area, nature reserve, sites of special scientific interest and several farms.
It is owned by utility company Severn Trent.
Mr Jones, 41, who lives in Norway and Poland, but is from near Bala in Gwynedd, is chief executive of Celtic Property Development.
RSPB Cymru and Mid Wales Housing Association have submitted a joint bid for the estate. The bird charity already manages part of the estate.
The results of a survey of Llanwddyn residents were revealed earlier this month. The community council asked 206 people for their views and 94 responded, while 44 of those provided additional comments.