National library set to 'lose £1m' after draft budget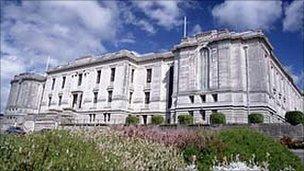 The National Library of Wales claims it is set to lose £1m over the next three years and jobs under the Welsh Assembly Government's draft budget.
The library, based in Aberystwyth, receives most of its running costs directly from Cardiff Bay.
It said its purchasing grant, which has been used to buy manuscripts by Dylan Thomas and a self-portrait by Sir Kyffin Williams, would be halved.
The assembly government said it valued the national library's work.
Spending on economy and transport and environment, down by more than 21% over three years, were hardest-hit in the draft budget, which was announced on Wednesday.
The national library said it would lose 4.2% from its main revenue fund (11.7% including inflation) and 38% from its capital fund. It claimed its purchasing grant of £611,000 would be even harder hit and would fall by 50% in April 2011.
Of the remaining £305,000, some £200,000 will go towards ongoing subscriptions to print and online publications, leaving an annual budget of a little over £100,000.
The national library said it had already lost a "substantial number" of jobs through compulsory redundancies, and a further budget cut would mean more posts would be lost, but "hopefully without needing to resort to compulsory redundancy, or to radical reductions in services to the public".
Librarian Andrew Green said: "The purchasing grant is used mainly to buy items and collections of real value to researchers and learners.
"The library will now be less able to purchase many books, archives, photographs and paintings as they become available. As a result, many items of national significance and importance will be lost to the nation."
The library said the 38% drop in capital funds would have a "serious effect", and it would have to spend less on the equipment needed to "sustain the expanding digital collections and information services" so important to its 1.6m remote users.
Mr Green added: "The library has made thorough and systematic preparations for reduced revenue spending. It has scrutinised all its expenditure, reduced energy and other costs, improved processing efficiency and encouraged staff flexibility. We have also made big efforts to fundraise and to increase income."
National library president Dafydd Wigley said through "smarter, more economical and more adaptable working methods we aim to avoid passing on the pain to our customers - for a time".
An assembly government spokesman said the cuts imposed on Wales by the UK government would impact on the heritage department's budget.
He said in line with all public bodies the national library will need to make savings over the next three years.
He added: "The assembly government values the work of the National Library of Wales and that's why its running cost budget has been offered a degree of protection within a very tight settlement.
"In recent years we have supported the library in developing its services with additional funding over and above its core funding. It has received £2m funding for the digitisation of Welsh newspapers and journals and £630,000 towards a programme to collect electronic publications."
"We are also pleased to have agreed additional £730,000 capital funding for the library over the next three years."
Related Internet Links
The BBC is not responsible for the content of external sites.