Young actors campaign to save Theatr Powys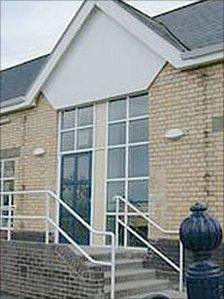 A campaign is under way by a group of young actors to save a "highly regarded" theatre which is threatened with closure.
Mid Powys Youth Theatre is part of Theatr Powys, which is expected to lose about £200,000 in funding from the Acts Council of Wales (ACW) next year.
Campaign4Creativity (C4C) has been formed to rescue the theatre, which is based in Llandrindod Wells.
Powys council runs it and said it would make a decision about its future soon.
Theatr Powys reopened in 2006 after it was seriously damaged by fire a year earlier. ACW helped fund the refurbishment and the renovation costs were put at £972,000.
In June, ACW said the funding of 32 organisations was to stop next April following a spending review.
The announcement came amid pressure on public funding due to the budget deficit.
ACW awarded £210,940 to Theatr Powys this financial year, while Powys council allocated £227,320.
Baely Saunders, who with her brother and sister are part of Mid Powys Youth Theatre, is an organiser of the C4C campaign.
"There is a Facebook page and a YouTube channel. There's also a ballot box campaign, and we're inviting people to vote for the continued opportunity for active participation in the arts in mid Wales and then we'll replicate an general election count and the results will be sent to Powys council," said Ms Saunders, 18.
Ms Saunders said Mid Powys Youth Theatre was founded 23 years ago and had more than 30 members.
"Powys council is between a rock and a hard place. It has to make cuts, but at the moment all the young people have access to acting and theatre professionals who will otherwise find work elsewhere if the funding is lost," she added.
"To lose this would be an opportunity lost and mid Wales isn't really seen as a land of opportunity."
Powys council said Theatr Powys, which has eight full-time staff, was part of its arts service, and was a "highly regarded touring theatre company".
Ms Saunders said C4C was formed in response to the ACW's funding cuts.
It is campaigning for the continued opportunity of active participation in the arts in mid Wales, and embraces all the arts groups which are under threat.
Brad Birch, campaign member and writer, said: "Art is not useless or a luxury. It is essential. All we ask is the ability to express ourselves. To export our art. To have a cultural significance. For a mid Wales identity."
A council spokesman said: "The council has provided funding for the organisation for the current financial year.
"Any future allocation will be considered as part of the council's overall budget discussion later this year when the council receives its budget allocation from the Welsh Assembly Government.
"The assembly will set its budget on 17 November and the county council will receive its provisional settlement a week later, the budget will not be confirmed until the New Year."
The ACW has been asked to comment.
Related Internet Links
The BBC is not responsible for the content of external sites.