Anger over rape case jailing of Powys woman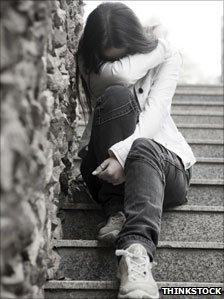 Rape charities have reacted angrily after a woman who accused her husband of rape was jailed for falsely dropping the charges.
The woman, from Powys, was given an eight-month sentence after changing her mind about pursuing prosecution.
Dyfed-Powys Police decided to investigate her for perverting the course of justice.
The End Violence Against Women Coalition said the verdict sent out a "chilling message" to rape victims.
Director Holly Dustin said it also showed parts of the criminal justice system are "still in the dark ages" when it comes to sexual violence.
And the charity Rape Crisis, which operates throughout England and Wales, said they were "outraged" a woman was being criminalised for choosing not to pursue her case.
The 28-year-old woman was jailed at Mold Crown Court on Friday.
She wept as she was led away from the dock and relatives also shouted at the judge for his decision.
During the hearing prosecutor Simon Parry told how the woman had made a 999 call to Dyfed-Powys Police in November last year claiming she had been raped six times by her husband.
But in January 2010 she told officers she wanted to drop the charges - although she still maintained they were true.
Detectives said they would continue with the prosecution and by February 11 the wife changed her mind, this time saying the original allegations were false.
She was arrested and charged with perverting the course of justice.
By July 30 she said the rape allegations were true and the retraction was false.
She told police she had been raped by her husband but he and his relatives had convinced her to drop the charges.
Judge John Rogers QC told her: "Despite all the support and time taken in the investigation you eventually made a retraction.
"I now have to deal with you because you made a false retraction."
Her husband has since appeared in court and pleaded not guilty to rape.
Mr Parry told the court the woman had been moved to a safe refuge while police investigated. Then she attempted to withdraw the allegations.
"There was a conference between the police and CPS and in the light of the fact she said the allegations were true they said the case would go ahead," said Mr Parry.
He said alarm bells started ringing for prosecutors when the woman admitted she and her husband had consensual sex soon after the alleged rapes.
"The crown started to worry about their case," said Mr Parry.
Gordon Hennell, defending, said: "When she embarked on making a false retraction she did not realise the seriousness of what she was doing. She does now.
"She perverted the course of justice in relation to a series of events in which she was the victim."
Mr Hennell said the woman had been in an abusive marriage which has now ended.
He alleged the defendant changed her mind as the result of "emotional blackmail" from her husband and his sister.
Judge Rogers said: "If you had to be dealt with for making a false allegation of rape you would be looking at a sentence of two years.
"The position has now changed but there are two aggravating features.
"One you have caused a substantial amount of wastage for the CPS and police, and two you have had to admit that retraction was false, perverting the course of justice, and for that the imposition of a prison sentence is inevitable."
Speaking after the sentence, Ms Dustin said: "Imprisoning a woman for a 'false retraction' of a rape allegation sends out a chilling message that parts of the criminal justice system are still in the dark ages in relation to sexual violence and do not understand the pressure women come under from perpetrators during the legal process.
"The potential threat of prosecution makes it less likely that women will report.
"Victims of rape already have little confidence that the police and courts will treat them fairly which is why only around one in 10 report the assault to the police.
"Resources should be focused on improving the very low conviction rate of just 6% of reported cases, and ensuring that all victims have access to specialist support from a Rape Crisis Centre whether or not they choose to report."
A spokeswoman for Rape Crisis said: "Rape Crisis are outraged that yet again a woman is being punished and criminalised for choosing not to pursue her case through the criminal justice system (CJS).
"This flies in the face of any progress that has been made in the last few years around how the CJS responds to women who have been raped.
"We are shocked that this woman has received a custodial sentence and by the length of it. It highlights a complete lack of understanding of the complexity and reality of women's experience of violence in their lives.
"The act of making a false retraction is not an offence in its own right and we are calling for her immediate release and for an investigation into how this shocking situation has arisen."
A spokeswoman for Dyfed-Powys Police confirmed they had investigated the case and charged a woman with perverting the course of justice after an allegation of a serious sexual assault in November 2009.
Detective Inspector Ian Andrews added: "I would like to reassure the public that Dyfed-Powys Police, in line with national requirements, treat, and will continue to treat, all allegations of sexual assaults seriously; this involves the use of specially trained officers to support victims during what is a traumatic experience.
"I would encourage victims of sexual assaults to contact the police and not suffer in silence."
Related Internet Links
The BBC is not responsible for the content of external sites.