'George Melly Day' towards jazz singer's Brecon benches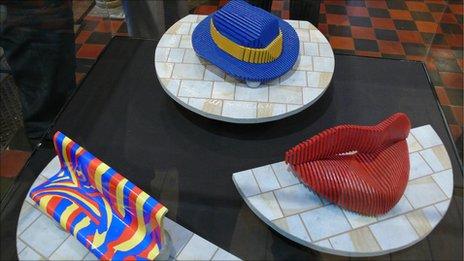 The widow of the late jazz singer George Melly says he would have been "thrilled" by plans to build a memorial to him in Powys.
Diana Melly has revealed the design for three benches celebrating his life and his links with Brecon Jazz Festival.
The unveiling started a series of events in Brecon on Friday, which organisers dubbed Melly Day.
An auction of art work, including two paintings by the flamboyant performer, helped raise money for the memorial.
Other lots included two original cartoons, which Mrs Melly said were donated by one of her late husband's mistresses. They were drawn for the national newspapers on the day his death was announced.
Plans for a memorial in Brecon were first mooted in 2007, and The George Melly Sculpture Appeal says it is looking to raise £100,000.
The colourful singer was a regular at Brecon jazz, and was one of its founding patrons and opened the first festival.
Mrs Melly said her late husband loved performing at Brecon jazz, and would have thought "it was fitting" that a memorial was being proposed.
Mrs Melly said: "I think George would have been thrilled people were planning a memorial to him.
"But the irony of trying to raise money during a recession wouldn't have been lost on him.
"Hopefully, the memorial will help bring money into the town."
Artist Bruce Williams has been selected to create the public art work. He has previously been commissioned to produce work about Oscar Wilde and Tony Hancock, said the people behind the appeal.
Mrs Melly said Mr Williams had focused on three different facets of her husband's personality for a sculpture in the shape of three benches. One bench is based around a fedora hat, which Melly was famous for.
She explained that people had fond memories of Melly's time in Brecon.
She said: "When we bought our house near Brecon in 1971, George thought it was great - somewhere to fish and a holiday from jazz.
"But quite soon jazz followed him to Brecon, but he wasn't disappointed."
She said one of his Brecon jazz highlights was appearing on stage with fellow performer Van Morrison.
She also revealed that Melly rode a moped and took his test in Brecon three times, and on the second occasion ran over test inspector's foot.
Mrs Melly added: "I've been told that people remember seeing George riding his moped in Brecon one Sunday morning in his pyjamas and dressing gown. He was going to buy a newspaper."
An auction of a mix of paintings, drawings and other work by artists in Wales will follow the Melly model unveiling at 1930 BST.
People will have a chance to view the lots and meet sculptor Mr Williams earlier in the day.
The Melly memorial is expected to be unveiled in 2012. About £30,000 has been raised so far.
Related Internet Links
The BBC is not responsible for the content of external sites.