Six secondary schools could close in Powys in shake-up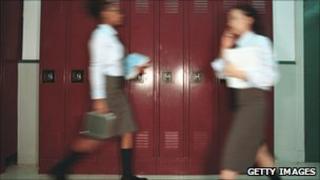 Six secondary schools could close in Powys as officials release more details about a planned shake-up of education in the county.
The idea is one of a shortlist of options drawn up by Powys council for pre-16 and sixth form education.
Officials said falling pupil numbers and the conditions of buildings were posing serious challenges to its 13 high schools.
The threat to schools was revealed in a leaked council report in January.
The news provoked anger in communities throughout Powys. Actions groups were formed and public meetings were held, while campaigns started on the social networking site Facebook.
In June, the council published a report outlining the challenges facing secondary and post-16 education as part of the "school modernisation" initiative.
It has now drawn up a shortlist of options which will be considered by councillors in November, but a final decision about the future of schools is not expected until May or June next year.
The options include closing six high schools and creating six with 1,000 pupils and one with 600 students.
Another proposal is to merge schools, with seven on 13 sites, and streamline management which could include having one head teacher for three schools.
The proposals for post-16 education include stripping schools of their sixth forms and the opening of sixth form centres, which could see students attending the further education college, Coleg Powys.
Councillor David Jones, who is responsible for schools, said: "The authority and our schools are facing serious challenges both now and into the future.
"A huge amount of work has already been done looking a ways of tackling the problems of falling school rolls, conditions of school buildings, curriculum pressures, changes in legislative requirement and the need to meet Welsh medium provision.
"We have identified a shortlist of possible options that we believe could form the basis of future plans but need further detailed examination.
"We have separated the options into pre-16 and post-16 provision and deliberately not identified a preferred option at this stage."
The NASUWT teaching union warned in January of industrial action if there were compulsory redundancies, while the National Union of Teachers said in June it would fight school closures "vigorously".
Some politicians have also criticised the council's plans.
Neil Butler, of Powys NASUWT, said: "I am concerned that a decision has been made to separate pre-16 from post-16 options.
"It is widely recognised in Powys that the best post-16 education is delivered within the school environment.
"I hope that this measure does not reflect a policy of softening up the people of Powys in order to prepare them for the option of consigning all of our student body to the care of Coleg Powys.
"As for the pre-16 options only three are practical considerations given the geography of Powys. The idea of bussing our children around this enormous county to six super schools is a nonsense."
Mr Jones added that the plans would be submitted to the Welsh Assembly Government in December.
He said there would be a consultation process with schools, parents, learners and other partners from January to mid-March.