Meifod army officer who led dangerous missions honoured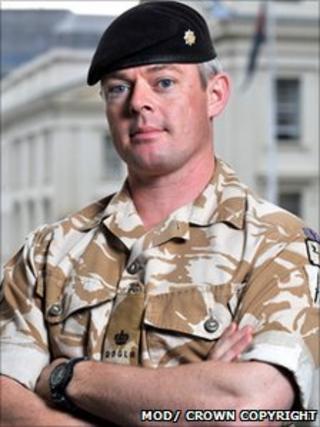 An Army officer who masterminded several complex operations in Afghanistan has been awarded the MBE.
Maj Patrick 'Patch' Reehal, 34, of Meifod, Powys, was the force behind 10 dangerous missions in Helmand Province.
One of the 200-vehicle convoys led by the Royal Logistic Corps soldier saw the patrol survive five roadside bombs and an enemy ambush.
The citation for the honour calls Maj Reehal "a gifted leader of men".
It continues: "His soldiers were inspired by his personal example, charisma and decisive action.
"There was nothing that they would not do for him.
"There is nobody across the Close Support Logistic Regiment more deserving of lasting, formal recognition than Major Reehal for his efforts during six months of demanding operational duty."
The soldier instructed nine Combat Logistic Patrols (CLPs) as commander of 10 Queen's Own Gurkha Logistic Regiment, each of which was said to be highly dangerous and vulnerable to enemy attack.
The majority of the missions involved more than 80 vehicles which needed to make the journey to deliver vital supplies and vehicles to various bases across war-torn Helmand.
Each operation required around 15 days' preparation.
The first lasted four days instead of 18 hours and saw the convoy face five Improvised Explosive Device (IED) strikes.
They also detected a further 16 IEDs en route and were ambushed.
The mission, dubbed Operation Loam 20, made national headlines at the time.
'Brilliant job'
Maj Reehal said: "I'm extremely honoured to receive this award, but moreover because it recognises the work of my regiment and every man within it, and all of our soldiers, so it's not for me.
"I see it as a really glowing citation for our soldiers, for doing such a brilliant job.
"When you have such brave, courageous, professional and tenacious soldiers such as I commanded on the ground, and such a fantastic team with you and all supporting you, clearly it makes jobs like mine a great deal easier."
He also personally directed another complex operation between 23 January and 1 February this year.
The patrol, from Kandahar Airfield to Camp Bastion, involved a 180km (112 miles) journey.
Maj Reehal's "incisive planning and unfaltering command" were said to be crucial to the success of the operation.
He will receive his award from the Queen at a later date.