Spending review 'delays' Newtown bypass route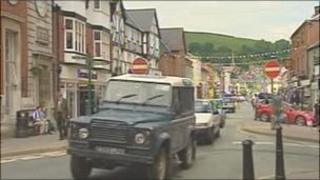 An announcement over the planned route of a bypass in Newtown could be delayed until after the UK government's spending review, says a Powys AM.
The Welsh Assembly Government was expected to unveil its preferred route last week, but maintains the decision will be taken "shortly".
Montgomeryshire AM Mick Bates said he was "deeply frustrated" by delays to the decision.
The assembly government has been asked to comment.
Drivers have long faced tailbacks in Newtown, but there are complaints problems have grown since traffic lights replaced a roundabout near a new Tesco supermarket.
'Deeply frustrating'
Last month, Newtown mayor Joy Jones claimed shoppers were "deserting" the town because of "major traffic problems".
Mr Bates said he had received confirmation from Transport Minister Ieuan Wyn Jones "that there is 'no decision yet' on the bypass.
"There will be an announcement 'shortly' and the minister will write to all elected members - but we have been expecting an announcement 'shortly' since the start of this year.
"It is deeply frustrating. I've been campaigning to keep the bypass on the agenda since I first put it into the transport plan when we were in government back in 2000-2003."
Work on the bypass is planned to start in about 2014.
Mr Bates added: "Personally, as much as I wish for an early announcement, I fear that having reached this point the government may now be waiting for the outcome of the spending review in October.
"This tallies with the comments from the First Minister [Carwyn Jones] and Deputy First Minister [Ieuan Wyn Jones] in response to my questions in the chamber."
The Welsh Assembly Government has said it was looking at ways to ease traffic.