Businessman bids to buy Lake Vyrnwy estate in Powys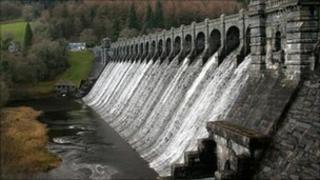 An international businessman has placed a bid for the 23,000-acre Lake Vyrnwy estate in Powys, which has been valued at £11m.
Rhys Jones, originally from near Bala, Gwynedd, wants to purchase it from Severn Trent as a long-term investment.
Mr Jones, 41, who lives in Poland, is chief executive of Celtic Property Development, which has assets of 200m Euros (£170m).
The tendering process ends on Thursday, with the new owner revealed in October.
There are two bidding rounds and Mr Jones will place his second bid for the estate on Thursday, said his spokesman.
He said the businessman would not have to go into debt to pay for the site.
The land is being split into four lots by property consultant Knight Frank, and it is understood there have been several inquiries from people and organisations.
Mr Jones is keen to purchase the entire site, which features a conservation area, a nature reserve, sites of special scientific interest and several farms.
He said: "I am fully aware of the importance of this site to Wales and particularly local concerns about the future investment - that is why I thought long and hard before expressing an interest.
"We believe a local purchaser with experience will provide a solution which will be acceptable to local communities and all those stakeholders either directly or indirectly who have an interest in this high profile sale.
"Clearly, this is a long-term commitment that I would not take on lightly but the language, the environment and Welsh rural life is important to me and my family and this will continue as we wish to hold the estate in the family.
"This is not a speculative bid. I have organised a local Welsh team and advisers to assist me and I am confident, if successful, we can deliver what is best for the local area."
Mr Jones has assembled a team, including his father who is a local farmer and businessman, to work on the bid.
He was brought up in Sarnau, near Bala, which is a few miles from the north of the estate. He also has family farming nearby.
Concerns have been raised about what the sale of the rural estate could mean for tenants.
A public meeting was held in nearby Llanwddyn on Monday, when Mr Jones's bid was mentioned.
Clerk to the community council, Gwyndaf Richards said: "This was mentioned, and there was some support for it, but I can't say anything positive about it at the moment because it is part of a tendering process.
"I understand there's been a number of inquiries from people interested in buying the land."
The Liverpool Corporation built Lake Vyrnwy, a reservoir, in the late 19th Century to supply water to the city.
The land around the lake is being sold on a 125-year lease.
An online campaign has been launched with the aim of a million people buying £10 shares of the estate to ensure public access.