Ofcom plans Radio Ceredigion Welsh output rise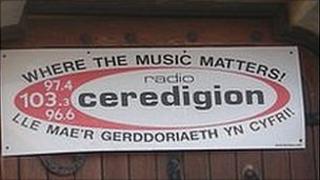 Telecoms watchdog Ofcom plans to vary a radio station's licence to increase its Welsh language output.
Radio Ceredigion was taken over by Town and Country Broadcasting (TCB) in April and a studio in Aberystwyth closed.
A listeners' group organised a 3,000-name petition over the amount of Welsh language output and claimed the station was paying only "lip service" to it.
TCB said it would contact Ofcom to "hopefully resolve the matter".
Ofcom said in order to protect Radio Ceredigion's "character of service" it proposed varying the station's licence to ensure "at least an hour of community programming" everyday was broadcast in Welsh.
It added that at least 30% of all music broadcast by the station during the daytime should be in the Welsh language as well.
Ofcom's proposals follow a campaign by the Friends of Radio Ceredigion, who sent a petition signed by 3,000 people to the watchdog after TCB's takeover.
Ofcom said: "We believe that specific Welsh-language community programming and the inclusion of significant quantities of Welsh-language music have, over many years, become significant and distinctive parts of the Radio Ceredigion service, such that their loss would be prejudicial to the station's character of service and the quality and range of programmes included in the service.
"However, at present neither of these programming elements is specifically demanded by the format."
It said it was proposing to vary the licence to protect the station's "character of service and the quality and range of programmes."
The chair of the Friends of Radio Ceredigion, Geraint Davies, welcomed Ofcom's plans.
He said: "We welcome the long-awaited report from Ofcom which supports our viewpoint that Radio Ceredigion since being taken over by Town and Country Broadcasting in April 2010, has failed to meet the legal requirement of the licence that its output should be 'roughly half and half English and Welsh'.
"Currently the output is almost totally in English with only lip service being paid to the Welsh language. That is totally unacceptable in an area where the majority of the people speak Welsh. I am delighted that it is equally unacceptable to Ofcom."
TCB's managing director Martin Mumford said they "noted" Ofcom's comments.
"As permitted, we will now make representations to the regulator to hopefully resolve the matter so that listeners in Ceredigion can continue to enjoy a dedicated local radio service for the county."