'Budget cuts' cause GPs stress, Powys conference told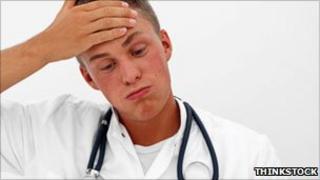 Budget cuts and changes to the way the NHS is run are increasing doctors' stress levels and forcing some to retire early, a support group claims.
Sue Elliston, of the Primary Care Support Service, speaking before a conference in Powys, said doctors felt no control over events in the NHS.
One GP who retired after suffering depression has warned of a "tsunami of retirements" over the problem.
The Welsh Assembly Government said it took workplace stress "very seriously".
Dr Elliston, who is at the 21st Rural Doctors Conference at Gregynog Hall, near Newtown, is a director of the Primary Care Support Service in Wales, which promotes the health and wellbeing of doctors, dentists and pharmacists.
She believes that GPs are suffering more pressure at work due to changes to the NHS and budget cuts.
'Challenge and uncertainty'
She said this was compounded by having to deal with the challenge and uncertainty around complaints and difficulty finding locums, adding that GPs were taking early retirement or changing profession due to the problems.
Dr Elliston, a former GP, is trying to help doctors cope by introducing them to a stress management technique called mindfulness. She said it was a way of "paying attention to what is going on in the present moment".
She said: "Doctors are well-motivated to look after their patients but not very good at looking after their own wellbeing.
"Change is incredibly stressful and many people tend to resist the process especially since they have been through it so many times in the past.
"I know of GPs who love their job but the stress surrounding it makes life difficult for them. They feel that they have no control over what is happening to the NHS."
She added: "Mindfulness is a way of paying attention to what is going on in the present moment. It enables us to learn to respond rather than react to stressful situations and enjoy more of what life has to offer. It is an approach I use in my own life and has been a life-line in times of difficulty."
She said three recent major reports had identified the high level of staff absenteeism in the NHS, with the main causes being mental health issues -particularly stress - and back problems.
An assembly government spokeswoman said: "The assembly government takes stress in the workplace very seriously and will consider any evidence about GP stress levels.
"On the issue of funding, investment in general practice in Wales has increased from £323m in 2003/4 to £460m in 2009/10."
The Rural Doctors Conference is organised by Montgomeryshire Medical Society and the Institute of Rural Health (IRH), and runs for three days.