Dyfi Forest audio trail recounts land girls' war work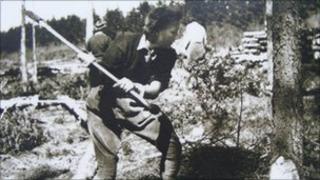 Forestry work by dozens of World War II land girls, called Timber Jills, has been brought to life in an audio trail.
A series of anecdotes about the women's land army in the Dyfi Forest, near Machynlleth, can be downloaded from the Forestry Commission website.
The audio trail describes the work of Timber Jills who toiled away while men were away fighting.
The two-mile (3.2km) walk starts from a picnic site just off the A487 between Machynlleth and Dolgellau.
The Forestry Commission said it meandered through mixed woodland, taking in a steep gorge with a "stunning waterfall".
It is the latest addition to four other MP3 trails set up by the commission.
Forestry Commission recreation ranger Graeme Stringer said: "It's important to engage younger generations who may never have heard of the women's land army or the Timber Jills, and the significance of the role they played as part of the wider picture of the Second World War."