Starbucks tells village shop to remove 'lookalike' sign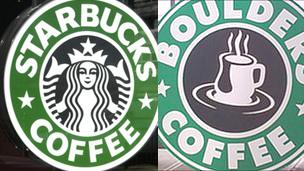 Coffee chain giant Starbucks has told a small village cafe to take down its sign after complaining that it was similar to its own logo.
The multi-national said it was contacted by a visitor to Boulders Coffee Lounge, in Borth, Ceredigion, who wrongly thought it was a Starbucks.
The small business has taken down its circular green sign after receiving a solicitor's letter.
Derek Edwards, the owner of Boulders, said it was an "innocent mistake".
Boulders Coffee Lounge is on the seafront at Borth, a village a few minutes' drive from Aberystwyth, and the sign had been on the side of the upstairs cafe.
But Starbucks claimed the sign infringed its trademark logo.
A Starbucks spokeswoman said: "Over the last 40 years our logo and name have come to mean great coffee and service to millions of Starbucks customers, so it's important that we take care that its misuse does not cause confusion.
"We were recently contacted by a customer telling us that they had gone into Boulders Coffee Lounge in Borth because they believed it was a Starbucks store and were disappointed to find that it was not.
"We have asked the coffee shop to change its logo to make it clear that it is not a Starbucks to avoid this situation happening again."
Boulders owner Mr Edwards said he thought he posed "no threat" to Starbucks.
"It was an innocent mistake, and I was happy to comply with Starbucks' wishes," he added.
"We do an excellent cup of coffee at very reasonable prices, with good service, and I hope those who visited us were not too disappointed to find they were not in a Starbucks.
"I'm just trying to promote my business to the best of my abilities.
"The sign is very similar, but I thought it wouldn't be a problem."
Related Internet Links
The BBC is not responsible for the content of external sites.