Health minister backs £20m Cardigan hospital plan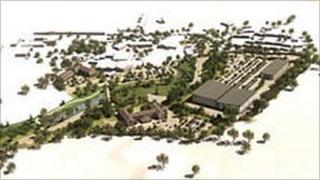 Initial plans for a new £20m hospital in Ceredigion have been approved by Health Minister Edwina Hart despite a dispute over building land.
The hospital is part of the £50m Bath House project, which will create 600 jobs and see a supermarket, housing and a GPs' surgery built in Cardigan.
In June, talks broke down over the sale of a piece of land for the hospital, which is expected to open in 2013.
The Welsh Assembly Government said work to secure the land was continuing.
In June, the Hywel Dda Local Health Board and Mrs Hart said they were disappointed a deal had not been struck over the land.
Planning for the Bath House project has been granted, and in 2005 it was the subject of a public inquiry.
But there have been concerns that Cardigan's road network would be unable to cope with the extra traffic generated by the development.
The assembly government said a number of locations for the replacement hospital had been considered, but the preferred option was the Bath House site.
It will replace the existing "outdated" Cardigan Hospital and will include facilities for GPs and social services under one roof, and is planned to open in 2013.
Hywel Dda Health Board will now prepare more detailed proposals for the minister.
Mrs Hart said: "My approval of the health board's initial plans demonstrates my commitment to developing health and social services in Ceredigion.
"The new development will bring together a number of services under one roof to improve patient care and be a better use of finite resources.
"I look forward to seeing the more detailed plans from the health board."
Health board chair Chris Martin added: "We are delighted that the Welsh Assembly Government has approved these initial plans for an integrated health and social care facility in Cardigan.
"This project demonstrates the health board's commitment to developing more health care services in the heart of local communities.
"It is further good news for patients in Ceredigion, as we also progress with the health board's largest capital development, the Bronglais front of house scheme, which will improve health care services at both Bronglais and in the community of Aberaeron."