Economy blamed for closure of Powys clubs for elderly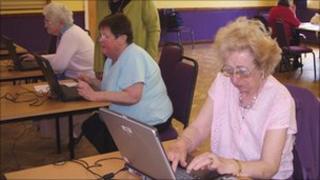 Four clubs for older people in Powys are to close, with the charity running them blaming the economic downturn.
Healthy living clubs in Llandrinio, Pontrobert and Middletown, near Welshpool, and Llandinam, near Newtown, have been operating for eight years.
Age UK said funders had "tightened their belts" since the recession, forcing the closures.
The clubs serve lunches and offer advice about health, exercise, pensions and computers for 85 people.
Age UK Montgomeryshire received funding for the first five years of the project from the National Lottery, and a combination of fund-raising and other grants has kept it going since 2007.
The charity's chief officer in north Powys, Andy McVicar, said he had recently applied for funding without success and the clubs were a "victim of the economic downturn".
Two people are set to be made redundant.
Project manager Margaret Davison said the clubs were formed in response to concerns about rural isolation after the closure of post offices and village shops.
She added that the users, aged between 60 and 90, had formed strong friendships over the years.
Reduced scale
Mr McVicar said: "In the current financial climate funders do not have the money they once had, and we're one of the victims of this. I understand what funders are going through.
"We have tried numerous funding avenues and people have been sympathetic, but they are tightening their belts."
Mr McVicar said he was looking at running two of the clubs on a reduced scale with volunteers.
It costs £60,000 a year to run the four clubs, but users' subscriptions pay £20,000 towards that. They receive a meal, while Age UK organises a guest speaker.
There are also arts and crafts and exercise classes, advice about using computers, health and pensions, while a minibus is laid on to transport the pensioners to and from the clubs.
Ms Davison said some club members had been suffering from depression and were referred to Age UK by social services.
Fifty volunteers helped to run the service, which will come to an end next week.