Aberystwyth University robotic yacht in Atlantic bid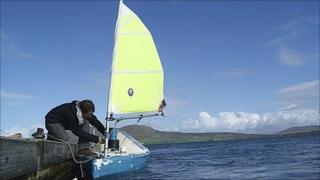 An unmanned robotic yacht has been launched off the Irish coast as part of a transatlantic challenge, although it is not expected to complete it.
Pinta is 3m long and was built by scientists at Aberystwyth University, who have carried out sea trials and taken part in competitions since 2006.
But this is the first time their boat has attempted the Microtransat Challenge ocean crossing.
Aberystwyth is the only team competing in this year's challenge.
It was conceived by academics in Aberystwyth and Toulouse, France.
Teams from around the world, who have taken part in previous years, have used on-board sensors and GPS technology to help their boats sail themselves from courses set by computer.
Dr Mark Neal, one of the founders of the challenge from Aberystwyth University, said the aim was to build robots that could survive in hostile environments for long periods.
But he said he did not expect his boat, Pinta, to succeed.
He added: "We're the only team taking part this year. A team from Brest (France) pulled out at the last minute partly because of the weather conditions.
"I don't think Pinta will succeed because there are some horrible weather conditions out there. There are 35 to 40 knot winds and the remnants of a hurricane.
"It will probably capsize. It is waterproof, but it won't survive the continual flipping over.
"At this point it could well turn out to be the world's first robotic sailing boat shipwreck."
If Pinta were to survive the next few days of storms and manage to claw her way off the Irish coast then her final destination is the Caribbean and the crossing should take at least three months.
Dr Neal, who has been helped by Phd student Colin Sauze, said Pinta was crafted from a child's dinghy and "second-hand and cheap parts".
Complete with small solar panels, the boat can be programmed to sail the course of a race but must be propelled by just the wind.