Vicar blesses horses for Brecon Beacons trekking season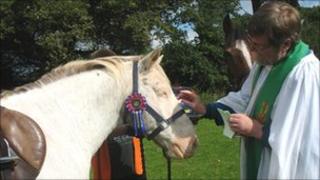 About 50 horses and their riders have been blessed by a vicar at a ceremony to mark the start of the pony trekking season in the Brecon Beacons.
Horses from small Shetlands to mountain ponies and thoroughbreds were blessed by vicar of Llangorse near Brecon, the Reverend Alan Jevons.
The event is supported by the Brecon Beacons National Park Authority and the British Horse Society (BHS).
After the blessing a 12-mile pony trek was held to raise money for charity.
Horses owned by both tourists and local people were blessed in the ceremony.
Tourism officer for the national park Carol Williams said: "This unique blessing ceremony is held annually in the Brecon Beacons and is fast becoming one of our most popular horse events in the national park.
"At last year's event we raised more than £500 for the Amser Justin Time charity, founded by Shân Cothi in memory of her husband Justin Smith's fight against pancreatic cancer."
The trek raised funds for both the BHS and the Help for Heroes, which helps wounded servicemen and women.