CCTV images show Machynlleth bank robbery attempt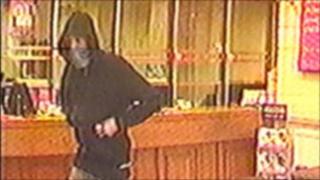 CCTV images have been released by police after an attempted bank robbery in Powys.
The raid at a NatWest branch in Machynlleth on 23 August was captured on CCTV cameras.
The man, in his late teens or early 20s, demanded money and was threatening to staff, but he was not armed.
There were no injuries and the suspect, who wore a grey scarf to cover his face, left without stealing anything.
Police said he had an English accent and could have been staying locally.
They added that a man was seen "loitering in the area behind the bank in the Bank Lane", and after the offence officers believe he ran back down Bank Lane and across the town's main car park.
The suspect was described as 6ft (1.83m) and of thin build. He had dark hair, dark eyes and was thought to have stubble on his chin.
'Suspiciously'
He wore blue jeans and a dark-coloured hooded top.
Det Insp Ian Andrews said: "Dyfed-Powys Police continue to seek the man displayed in the footage.
"A male was seen outside the bank acting suspiciously before the offence.
"A male entered the bank and threatened staff demanding cash, he left however empty handed. Staff were shocked but unhurt.
"Officers have been making inquiries in the area and posters have been placed in local premises."
He added: "It is likely that the male was a visitor to the area and we would ask all owners of caravan or camping sites or other types of accommodation, bus drivers in the area as well as all local people to consider the images."
Anyone with information can contact Newtown CID on 101 or the independent charity Crimestoppers anonymously on 0800 555111.