Book of Aneirin to move from Cardiff to Aberystwyth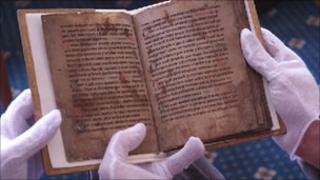 A 13th Century book of poems described as a "national treasure" is to be stored at the National Library of Wales in Aberystwyth for safekeeping.
Llyfr Aneirin (Book of Aneirin) is currently held at Cardiff Central Library, but its age and condition means it is unable to go on display.
Cardiff council wants to preserve the ancient manuscript and is handing it over to the national library.
It is considered one of the most important books in the Welsh language.
Dating from 1265, it contains a long poem called Y Gododdin which is one of the oldest Welsh poems.
By depositing the book at the national library, Cardiff council said it would rejoin the Hengwrt collection, which includes The Black Book of Carmarthen and The White Book of Rhydderch, which had been apart for centuries.
'Special place'
It added that experts at the national library were best placed to ensure the long-term preservation and development of this "national treasure".
Council leader Rodney Berman said: "To safeguard the future of Llyfr Aneirin the council's executive have today agreed that the manuscript will be best placed at the national library.
"The agreement between Cardiff council and the national library will ensure the safekeeping of the book for future generations, whilst the book will still remain the property of Cardiff council and a part of Cardiff's heritage."
Heritage Minister Alun Ffred Jones said the Book of Aneirin was "one of the most discussed collections of poetry in the Welsh language" and held a "special place in the history and development of the Welsh language".
The book will remain the property of the council, and Cardiff libraries will receive two full facsimile copies of the book from the national library for local use and display, along with professionally produced displays to promote the facsimiles and the original.