Coroner opposes Aberystwyth pathology unit 'closure'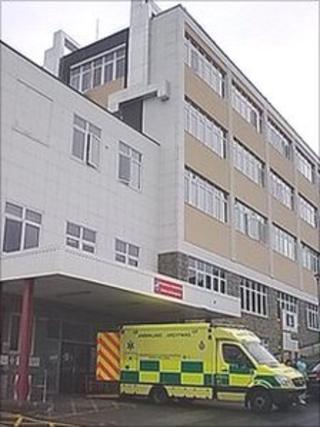 The closure of a pathology department will lead to a delay in post-mortem examinations and the downgrading of a general hospital, a coroner claims.
The service at Bronglais in Aberystwyth will be replaced by a new mortuary at West Wales General Hospital in Carmarthen early next year.
Ceredigion coroner Peter Brunton said moving a unit 70 miles (112km) would "inevitably" delay the procedures.
But Hywel Dda Health Board said the department was not closing entirely.
It added that many services would be retained.
Meanwhile, an Aberystwyth undertaker has claimed that moving post-mortem examinations from Bronglais could put funerals on hold, and some were being sent from Ceredigion to Shrewsbury in Shropshire.
A health board spokeswoman said officials had received no complaints from the Ceredigion coroner about delays to funerals.
Last month, the board denied it was downgrading Bronglais after a leaked report said it would lose some services. It said the report was out of date.
About 200 post-mortem examinations are currently carried out annually at Bronglais, according to the health board.
Mr Brunton said: "It is inevitable post-mortems will unfortunately be delayed when the health board, in its wisdom, moves services 70 miles south. Common sense says you cannot get the same service.
"I am opposed to the decision to close the pathology department at Bronglais Hospital. I am not in favour of centralisation, especially when we have a perfectly good pathology department and service which has served me and my predecessors well for the last 50 years.
"Things are being centralised and people in the lesser populated parts of the kingdom are paying the price.
"The decision to close the department means that it will cease to be a teaching hospital, I understand, and this is a downgrading of the general hospital.
Two-hour drive
"I have been in correspondence with Hywel Dda Health Board since 2007 remonstrating about closing the pathology department at Bronglais and they have said it would not happen."
Mr Brunton confirmed that some post-mortems were currently being carried out in Shrewsbury - a two-hour drive away from Aberystwyth.
"If Christopher Simpson (the pathologist at Bronglais) is not available then I can't keep them waiting and post-mortem examinations will be carried out where I can get them done most efficiently," Mr Brunton said.
Hywel Dda Health Board said it had, and always would, offer a post-mortem service to the coroner.
A spokeswoman added: "The pathology department at Bronglais General Hospital is not being closed with many services being retained on-site, including biochemistry and microbiology."
In a statement issued on Wednesday it explained that a "new and improved mortuary" was being built at West Wales General Hospital, and from early 2011 bodies from Ceredigion would be sent there.
A spokeswoman said: "The health board can assure the Ceredigion community that the transfer of post-mortems to Carmarthen will not significantly delay the time in which post-mortems can be carried out.
"A respectful facility for relatives to view deceased family members will remain at Bronglais General Hospital."
She added that the majority of post-mortems were requested by the coroner, and it was at his discretion where they took place and the health board was in regular contact with him about this matter.
She added that the decision to relocate the service was not a cost-cutting measure.
But Aberystwyth funeral director Trefor Evans insisted there would be delays, and said post-mortems were already being phased out at Bronglais. He added that Mr Brunton was sending some cases to Shrewsbury.