Victory for Elan Valley Dambusters tribute campaigner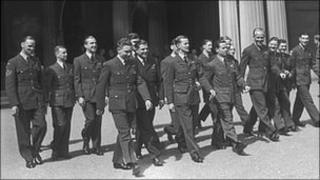 A replica bomb is to be placed at a Powys beauty spot where it was tested during World War II after a campaign.
Douglas Jones, 86, said he was delighted the Elan Valley, near Rhayader, would finally be recognised for its role in The Dambusters raid.
Bouncing bombs, designed by engineer Barnes Wallis, destroyed dams vital to the German war machine in 1943.
A showbusiness charity said it would pay for a replica bouncing bomb.
Last week, Emmerdale actor Richard Thorp, who plays Alan Turner in the ITV soap and appeared in The Dambusters film in the 1950s, joined Mr Jones's campaign to recognise the Elan Valley and The Dambusters.
They dealt a blow to the German war machine in 1943 when they dropped bouncing bombs, designed by engineer Barnes Wallis.
Nineteen aircraft from the RAF's 617 Squadron set out to destroy the Mohne, Eder and Sorpe dams in Germany's industrial heartland, the Ruhr valley, but only 11 returned from the perilous low-level mission.
The attack was later to form the basis of the 1955 film The Dambusters, which starred Richard Todd, Michael Redgrave and a young Richard Thorp.
The Elan Valley, which has a series of reservoirs supplying water to Birmingham, was used to test explosives in 1942. As part of Wallis's experiments, a large hole was blown in Nant-y-Gro dam.
Mr Jones, a World War II veteran from Dutlas, near Knighton, Powys, said he had been campaigning for a replica bouncing bomb memorial for 10 years.
He added: "I spoke to the Heritage Foundation after some recent publicity about my campaign and they said they would pay the the replica bouncing bomb and a plaque in the Elan Valley.
"I couldn't wish for better - I'm highly delighted. I've made dozens of phone calls and written dozens of letters during the campaign."
Plans are to locate the memorial near a visitor centre in the Elan Valley.
The showbusiness charity, The Heritage Foundation, supports a variety of good causes. Its president is Bee Gee Robin Gibb, while past presidents have included comedians Sir Norman Wisdom and Ernie Wise and pop star Phil Collins.
Its chairman David Graham said: "I've spoken to Mr Jones and we're happy to pay for this memorial, but it could be two years before it is put in place.
"We are currently fund-raising for a Bomber Command memorial in Green Park, London, so we'd like to sort this one out first of all.
"We're happy to get behind this one. We think it's important to recognise the sacrifice these people made and the determination and commitment they showed."
Nant-y-Gro dam, which was 35ft (10m) high, and 180ft long (55m), was used for the secret experiments by government officials who needed a testing site for the bombs.
The Elan Valley was already used as a firing range by the military and its remoteness made it a perfect location for Barnes Wallis' research.
Wallis eventually devised his drum-shaped bouncing bombs which were designed to skim across water, roll down dam walls and explode at depth.