Llanwrtyd Wells bog snorkel has new world record time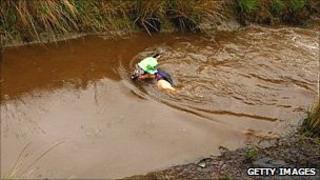 The World Bog Snorkelling Championships in Powys has been won in a record time.
About 140 people from the UK, Poland, Ireland, Germany, France and Australia challenged for the title at Llanwrtyd Wells, Powys, on Sunday.
Contestants must avoid conventional swimming strokes when negotiating the 60 yard (55m) water-filled trenches.
Dan Morgan, from Brecon, is said to have "thrashed" the existing record, 1 min 38.15 secs, by eight seconds.
His time was 1 min 30.06 secs.
Fancy time
But the event's chair had predicted a possible record-breaking time being set after the bogs had been cleaned out for the first time in a decade.
Old flippers and a snorkel were among the items found when the trenches were cleared of silt and debris recently.
The annual championships have put the small mid Wales town on the tourist map.
When the deadline for entries closed at 1300 BST on Sunday, hundreds were lining the trenches to cheer on the challengers.
John Crompton, one of the organisers, said: "It was a good turnout. Everyone had a good time.
"The weather was pretty miserable to start with. It was wet and rainy and the rain was coming down horizontally. By the end of the day it brightened up."
He added: "There's not many things you can be world champion at without any preparation, you can just jump in and swim."
Championship rules state that entrants must not use conventional swimming strokes but instead must rely on using flippers.
Competitors pay to take part in a variety of categories which range from men and women to juniors and fancy dress.
Organiser Green Events Limited donates all funds raised to charity.