Plans mooted for replacement Dyfi bridge in Machynlleth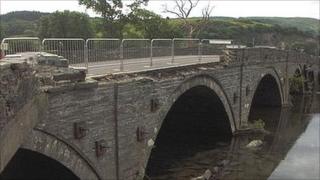 A new bridge could be built to replace a 200-year-old Grade II-listed crossing which has been repeatedly damaged.
The Welsh Assembly Government is looking at strengthening and widening the Dyfi Bridge, in Machynlleth, as well as building a new structure.
Part of a side wall was knocked down by a lorry in June, the latest in a long line of incidents.
It has been closed to lorries for repairs, but is expected to fully reopen in September.
Cars and vans have been able to cross the bridge, which links Powys and Gwynedd, but traffic lights have been in place.
Since the latest accident, there have been calls by local people for a replacement.
A spokeswoman for assembly government, which is responsible for the crossing, said: "The bridge is currently closed to HGVs (heavy goods vehicles) for safety reasons. It will be fully reopened to traffic, once the repairs are completed, which is hoped will be by early September.
"We are looking at options for providing an improved crossing of the Afon Dyfi, which include widening and strengthening the existing bridge as well as a new structure.
"The existing bridge is a Scheduled Ancient Monument as well as a Grade II-listed building, so any repair work and consideration of improvements must take account of CADW's (historic monuments agency) conservation requirements."
In June, county councillor Michael Williams, who represents Machynlleth, called for a replacement crossing.
He explained that Dyfi Bridge was regularly hit by vehicles, and flooded in wet conditions.
Montgomeryshire AM Mick Bates said he supported Cllr Williams, describing a new bridge as a "common sense solution".
He said: "It would allow for more gentle and sustainable use of the existing bridge perhaps as a cycle path, with a new bridge providing a more suitable crossing for transport and heavy traffic further upstream."