Finishing touches put to Cardigan Castle £4.5m bid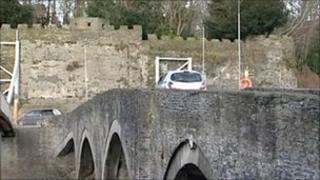 The finishing touches are being put to a £4.5m lottery bid to transform a 12th Century castle.
The Cadwgan Building Preservation Trust plans to convert Cardigan Castle into a heritage centre, with a Welsh language school.
The Heritage Lottery Fund (HLF) awarded the group £300,000 in 2008, which was used to employ staff and pay fees.
The trust said it was confident the bid would be viewed favourably when submitted at the end of next month.
The trust has to match fund the money, and has applied to the Welsh Assembly Government, the European Union and trusts for additional money towards the £9.5m renovation project.
It also has to raise £150,000 towards the building costs.
Jann Tucker, chair of Cadwgan Building Preservation Trust, said: "I am very confident our bid will be successful - we have to be confident".
The trust is working with Ceredigion council and the Prince's Regeneration Trust to transform the castle, which is said to have been the birthplace of the National Eisteddfod in 1176.
Mrs Tucker added: "The Prince's Regeneration Trust has been very supportive and helpful, and I know the prince [of Wales] is taking a very keen interest in what we're doing and asks for a monthly progress report."
The £295,500 the trust received from the HLF in December 2008 helped employ consultants and architects, and paid for plans to be drawn up.
It also enabled the trust to press ahead with the second round of the bidding process, which will reach its climax next month.
"We are also working closely with [historic monuments agency] Cadw, and we've been helped enormously by Ceredigion's AM Elin Jones and MP Mark Williams," added Mrs Tucker.
Meanwhile, Mrs Tucker hopes that some stanchions placed on the derelict building more than 40 years ago to improve its stability, will finally be removed next year.