Dragons' Den success for Powys falconry business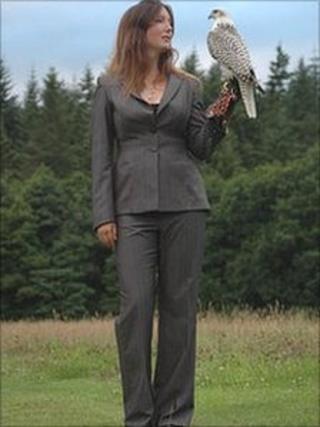 A young businesswoman has told of her delight at walking away with a £50,000 investment on the BBC's Dragons' Den.
Layla Bennett, 26, from Builth Wells, Powys, runs Hawksdrift, a falconry business that needed a lift.
Holding her falcon Monty, she told Monday's BBC Two programme she needed their help to build a new aviary and employ a full-time assistant.
One Dragon, Duncan Bannatyne, eventually offered £50,000 for a 25% stake in the business.
Ms Bennett, who was Powys young entrepreneur of the year in 2009, made a strong case for Hawksdrift in her pitch to the Dragons.
She ended by inviting them to stroke Monty - an offer taken up by two other Dragons, Deborah Meaden and Theo Paphitis.
Ms Bennett said she was grilled by the five multi-millionaire investors for 80 minutes during filming in May, although only about 10 minutes was broadcast on Monday night.
But her appearance on prime-time TV seems to have paid off, because she said she had received more than 30 inquiries from potential customers since the show was aired.
The birds of prey are used for pest control and falconry displays, while hawks have been specially trained to deliver rings to the best man during wedding services.
"I'm delighted Duncan invested in my business," said Ms Bennett.
"I'll be using the money to employ a full-time person. We need more birds so we need a new aviary to start a breeding programme."
But what about pitching in front of the Dragons?
'Incredibly nice'
"I was terrified," added Ms Bennett. "It was really, really nerve-racking. The worst part was the first three minutes giving my pitch. It looked and sounded OK on TV, but I thought at the time my voice was quivering.
"The Dragons were all incredibly nice and kind."
She practicsd her pitch to friends and family, and in the final moments before filming she ran through it in front of the programme's production team.
She told the Dragons that her turnover had risen year on year, from £38,000 in 2009 to projected figures of £125,000 for 2011, mainly due to the growth of pest control contracts.
Mr Paphitis was the first to make her an offer - half of the £50,000 she needed for a 20% share in the business.
Mr Bannatyne countered that by offering her what she had asked for - £50,000 for a 25% stake.
Ms Bennett, who has 32 birds of prey, said she started her business in 2006, although she had been interested in falconry since the age of 16.