Surprise Lowry print windfall for Aberaeron Red Cross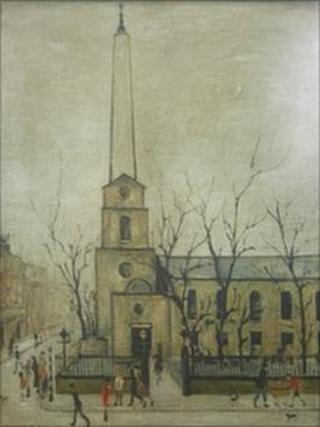 A charity shop has had a windfall after a worker discovered a limited edition print signed by artist LS Lowry.
The framed scene of St Luke's Church in London was found in a box of donations given by a woman to the Red Cross in Aberaeron, Ceredigion.
The reproduction of the Lowry - famed for his "matchstick men" - has since been auctioned for £400.
When the Red Cross staff realised its value, the print was stored in the shop's toilet for safekeeping.
Manager Sian Frost said the artwork was discovered by her sharp eyed assistant manager Nia Jones.
"Nia knew straight away that it was a signed limited edition print," said Ms Frost.
"Someone came in off the street and we hadn't seen her before. The framed and mounted print is nearly 5ft tall and is St Luke's Church in London.
"We put it in our shop bathroom for safety because we didn't want it to get damaged or sold, by mistake, for something silly like £3."
The shop staff contacted John Francis auctioneers in Carmarthen and it was entered into a fine art auction in May. It was valued between £300 and £400.
"The auctioneers thought it was quite a nice find, and it was number 400 or so of 800 signed prints," added Ms Frost.
"The person who donated it probably didn't realise what she had done, but the money has gone to a good cause."
Laurence Stephen Lowry died 34 years ago.