Hollywood actor Jason Statham shoots SAS movie in Wales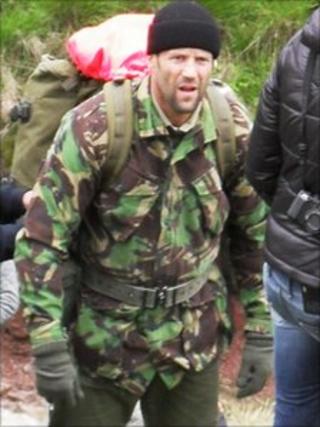 Hollywood actor Jason Statham is in Wales shooting scenes for a new movie, which also stars Oscar-winner Robert De Niro and Clive Owen.
The Killer Elite is reportedly based on a book by explorer Sir Ranulph Fiennes about the murder of SAS soldiers.
Scenes featuring Statham were shot in the Brecon Beacons on Wednesday, and artificial snow was used to create a wintry scene in the middle of summer.
Part of Cardiff city centre has also been cordoned off for filming.
Sir Ranulph's book, called The Feather Men, is thought to be based on real events, and describes how four British soldiers, including two members of the Special Air Service (SAS), were murdered by a hit squad.
The regiment is understood to train in the Brecon Beacons, and that is thought to be one of the reasons why it was chosen as a location for the movie.
Artificial snow was laid in an area known as Pont ar Daf, between Brecon and Merthyr Tydfil, by the film crew on Wednesday.
Meanwhile, a street off one of Cardiff's main shopping areas has been cordoned off for filming on Thursday. Barriers have been placed across Windsor Place off Queen Street.
Samantha Games of Brecon Beacons National Park Authority said films brought benefits to small communities.
She added: "There are so many outstanding and diverse landscapes in the Brecon Beacons that we always try and go out of our way to promote them to location managers and film companies looking for something unique.
"Film productions bring many benefits to small communities in national parks and The Killer Elite is a feature film production which we welcome to the Brecon Beacons. It's no secret that the SAS train in the wilds of Wales, so it made perfect sense to use the Brecon Beacons to film some of the film's key shots."
Ms Games thanked the film's production company which has "taken great care to respect this protected landscape".
Edwin Harris, chairman of the Brecon Beacons Commoners' Association and the Welsh Commons Forum, said: "We are delighted that people appreciate the beauty and worth of the landscape we work on and care for.
"We would like to welcome more filming to the Brecon Beacons and look forward to working with the national park authority on future projects, including the work that we, the graziers do to manage this landscape."
Mascot Productions, which is behind the filming, has been asked to comment.