AMs warn over European Union farm grants shake-up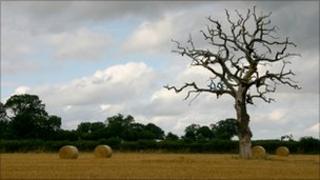 Guarantees that a planned shake-up of European grants will not leave Welsh farmers worse off has been called for by a group of assembly members.
A report published by an assembly advisory committee said reform of the Common Agricultural Policy (CAP) must not lead to reduced money for Wales.
They are calling on the Welsh Assembly Government to make protecting the CAP budget a priority.
The assembly government said it would study the report's recommendations.
AMs, from the cross-party rural development sub-committee, have been assessing the impact of CAP reform.
Their report calls on ministers to make protecting the CAP budget a priority, so that Wales does not end up with a reduced sum of money after 2013.
It also recommends that the assembly government uses the influence of Welsh MEPs, and builds alliances with other European Union regions.
"Evidence gathered during the inquiry highlighted the importance of the CAP to the Welsh agricultural industry and rural Wales more generally, so the committee felt a duty to get involved in the debate of its future post-2013," said committee chair Rhodri Glyn Thomas AM.
He said that income from CAP's single farm payment accounted for 90% of average farm income in Wales, so its importance could not be underestimated.
An assembly government spokesman said: "We will study the recommendation of the sub-committee's report with interest. The minister (Elin Jones) will respond to the sub-committee in due course."
The AMs' report was launched at the Royal Welsh Show in Llanelwedd, Powys.